The Rams (8-0) will travel to New Orleans to take on the Saints (6-1) for the third time in three seasons in Week 9. 
In 2016, the Saints beat the Rams 49-21 in quarterback Jared Goff's second-career start. Last season, Goff and the Rams got revenge back home in the L.A. Memorial Coliseum — beating the Saints 26-20. Goff threw for 354 yards in that game, one yard shy of his career high, which remained until Week 4 of this season, when Goff threw for 465 yards against the Vikings.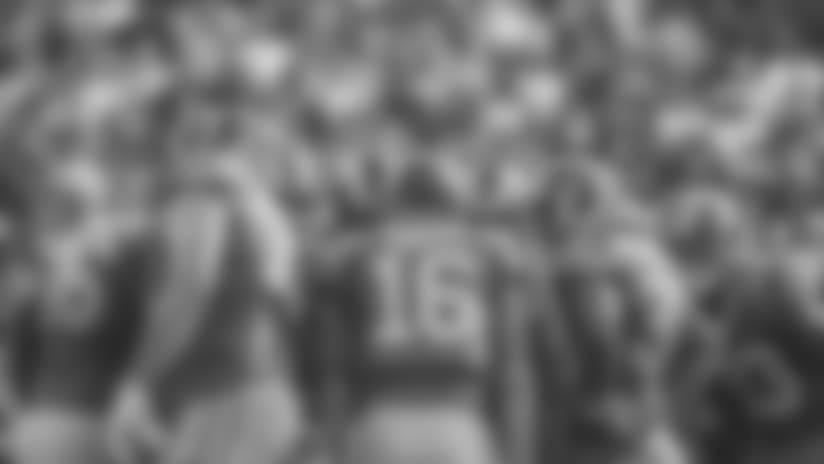 This year is a different story and the Rams know it. Sunday's game is a midseason meeting of the NFC's top two teams, with possible playoff implications in the mix with plenty of football left to play.
"It's a new year, so we just got to go out there and do our job and try to slow them down and we will come away with a win," defensive tackle Aaron Donald said about facing the Saints in back-to-back seasons this week.
As for what this game means for playing in big games down the road, wide receiver Robert Woods expressed he's only interested in improving to 9-0.
"I mean I don't look at it in the future, I'm looking at it as just this one game, we're looking at it as just this game — one task at a time — make sure we execute our game plan, make sure we put up our points, no errors on the side, no turnovers," Woods said. "We know it's a good matchup — but it's a normal game, it's a regular game for us. We have to be ourselves and protect the ball."
Protect the ball against a fairly polarized Saints defense that is. New Orleans 300.0 yards receiving per game (28th), but features the NFL's best run defense, allowing a league-low 74.1 yards per game and 3.2 yards per attempt on the ground through seven games.
"[DE] Cameron Jordan," running back Todd Gurley replied when asked the biggest challenge about the Saints' defense. "He's a beast. Obviously, we know that, know what type of player he is and seeing that they have the No. 1 rush defense. They've got good linebackers, [LB] Manti Te'o. They're very sound on the second level."
With Jordan and his five sacks, as well as other levels of the Saints defense on his mind, Gurley enters the Superdome as the league's best rusher. Gurley's put up 1,151 yards of total offense and scored 15 touchdowns this season. With a touchdown against the league's-best run stoppers, Gurley will become the only player in franchise history to score a touchdown in 12 consecutive games.
All indications point to L.A.'s offense sending out second-year receiver Cooper Kupp against the Saints for the first time since he was injured in Week 6 against Denver. Kupp returns from injury leading all Rams receiving options with five touchdowns.
What does it mean to have Kupp back in the offense?
"Yeah, definitely big," Gurley confirmed. [WR] Josh [Reynolds] came in and stepped up big, but Cooper Kupp is — he's great, man. Great guy on the field, can't be guarded one-on-one. Makes guys look silly and he just keeps getting better and just keeps improving."
After posting 300 yards receiving or better Weeks 2-5, the Rams offense tallied less than 300 yards receiving in the three games without Kupp (including Week 6 in Denver).
The Rams expect to enter New Orleans with a fully-stocked arsenal on offense, and now with the addition of outside linebacker Dante Fowler, if anything, an overstocked defense — which will need to be at its best to slow down future Hall of Fame quarterback Drew Brees and his Saints, who are unbeaten since Week 2. 
Brees will be up against an L.A. defensive front that features five first-round draft picks in Donald, defensive tackle Michael Brockers, defensive tackle Ndamukong Suh, linebacker Mark Barron, and now Fowler — who was acquired this week to provide rush support from the edge.
Donald, Suh, Brockers, and Fowler alone have a combined 44 sacks since the start of 2017.
"No quarterback is immune to sacks," Suh said this week. "When it comes down to it, it's going to be a combination of our secondary doing their job as they have been and us getting after the quarterback, making him uncomfortable. He can choose to throw it away or he can choose to take the sacks — because that's it."
Brees is putting up MVP numbers in his 18th season and has been remarkably accurate — even for him. Entering 2018 completing 66.9 percent of his passes over the course of his career, the 39-year-old has thrown for 1,990 yards and 14 touchdowns this season, completing 77.4 percent of his passes with just one interception. 
"The great ones you try to slow them down," defensive coordinator Wade Phillips echoed this week, after successfully slowing Packers quarterback Aaron Rodgers in Week 8. "The offense is always a challenge, especially with [Saints Head Coach] Sean Payton and those guys having so much experience together. They're real aggressive in what they do."
Payton and Brees have clocked-in for 12 seasons together in the Big Easy, and in 2018 are joined in the league's second-highest scoring offense by second-year running back Alvin Kamara — who head coach Sean McVay compared to the notoriously hard-to-find cartoon 'Waldo.'
Kamara, who earned Offensive Rookie of the Year honors in 2017, leads the Saints with nine touchdowns this season. Kamara is joined by a cast of options for Brees, in an offense averaging 33.4 points per contest. Brees has thrown 14 touchdown passes to eight different targets though seven games — four to his leading wide receiver Michael Thomas. 
Donald said that his defensive line staying in their gaps is key to winning Sunday's game of 'Where's Kamara' and if they are able to do that, pressure on Brees will come.
The Rams have won in a variety of ways in 2018 — each victory different than the last. A week ago, it was the special teams and linebacker Ramik Wilson's late-game takeaway to best Rodgers. In Week 4, Goff lit up the Vikings in an offensive shootout against former Rams quarterback Kirk Cousins. Against the 49ers in Week 7, it was all Aaron Donald when No. 99 posted a career-day with 4.0 sacks, six tackles for loss, five quarterback hits, and a forced fumble and recovery.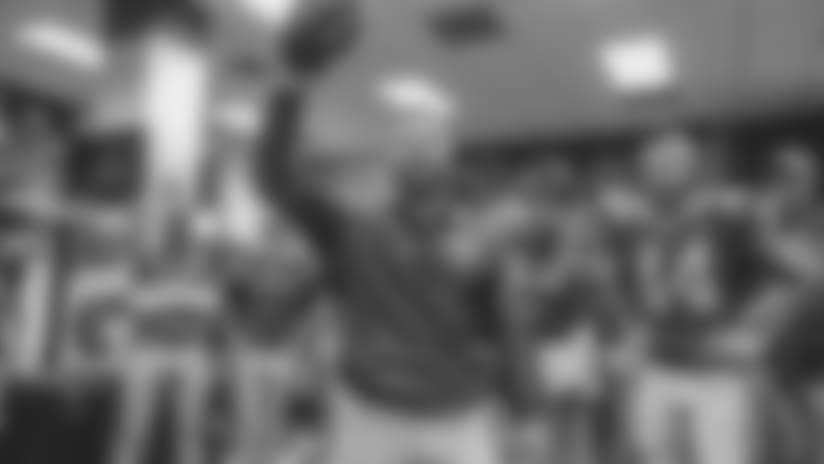 "Having done this a long time, you prepare sometimes for what type of game you think it might be and it's the opposite," Sean Payton said this week, knowing his Saints must be ready for anything come Sunday's game atop the NFC against a Rams team that has won by any means necessary in 2018. "What's important is, your ability to recognize and adjust as the game is going on to what's happening."
On the opposite sideline, McVay is also preparing for anything in what should be a raucous Mercedes-Benz Superdome. 
"They can come from behind, they can play with a lead, they can do all types of different things in all three phases and that's why they're one of the best teams in this league and why they've won six in a row," McVay said. "It's going to be a great challenge and we're excited about it."