The Rams (11-1) will travel to Chicago in Week 14 to take on the first-place Bears (8-4) with the opportunity to clinch a first-round bye on Sunday Night Football. 
The Rams are 3-0 on primetime this season, beating the Raiders in Monday Night Football's season opener, the Vikings in the L.A. Coliseum on Thursday Night Football, and topping the Chiefs in the highest-scoring game in the history of Monday Night Football in Week 11.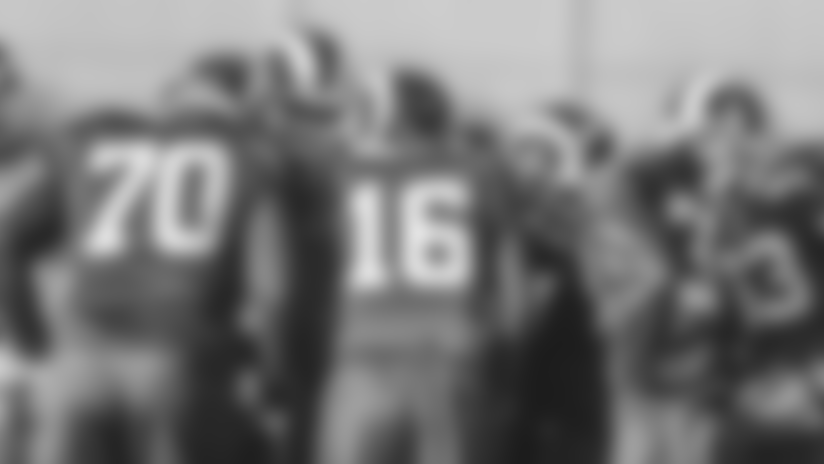 The Rams are also undefeated against the NFC North. Beating the likes of quarterback Aaron Rodgers and the Packers, quarterback Kirk Cousins and the Vikings, and most recently Matthew Stafford and the Lions in Detroit — members of the NFC West Champion Rams are paying attention to what second-year Bears quarterback Mitchell Trubisky has to offer ahead of meeting their final NFC North opponent.
"He spreads the ball around, he's got that Russell Wilson effect," cornerback Aqib Talib said of Trubisky this week. "He scrambles to throw the ball downfield — or he's got that Cam Newton effect — he's kind of like both of them put together."
"I think, obviously, he's a good, young quarterback that can really throw the ball, but he's also athletic," defensive coordinator Wade Phillips said.
Phillips admitted that preparing for Trubisky, plus first-year head coach and play caller Matt Nagy has been a handful after facing some of the league's top offenses this season.
"These young, innovative, offensive people are making me get gray hair, I think, almost," the 71-year-old coordinator joked. "But anyway, they've got good personnel, and they do a good job with them."
The former North Carolina Tarheel has started 10 games for the club and accumulated 2,469 yards passing with 20 touchdowns and nine interceptions this season. He is also the team's second-leading rusher, racking up 363 yards and three touchdowns with his legs in his second season. Trubisky has been battling a shoulder injury since the end of the Week 11 game against the Vikings and has missed the last two weeks because of it. But all indications point to the young quarterback playing on Sunday night. Trubisky has been a full participant in practices this week.
Chicago's signal-caller is not the only member of the offense that's aging Phillips. The Bears offense has been a balanced force this season, and is perhaps highlighted by scatback Tarik Cohen. Trubisky has thrown his 20 touchdowns to eight different receiving options this season, while Cohen has done a little bit of everything. 
The 5-foot-6 multi-threat back has 315 yards rushing with two touchdowns and 659 yards and four touchdowns receiving in his second season as a pro, and is drawing comparisons to Kansas City's wide receiver Tyreek Hill, who had 10 receptions for 215 yards and two touchdowns the last time the McVay and company were on primetime.
The generally healthy Rams offense took a hit in Detroit, losing running back Malcolm Brown to a clavicle injury that McVay said will sideline his backup for 8-10 weeks. Brown has 43 carries for 212 yards in 2018, mostly providing running back Todd Gurley an opportunity to catch his breath as he averages five yards per carry. 
Gurley, who joined the Rams in 2015 alongside Brown, spoke about losing his fellow running back this week.
"Just losing a guy like him, big piece for us – definitely on special teams," Gurley said. "I know I can come out comfortably in a game and he's going to go in there and do the same production."
With Brown out, L.A. will likely activate running back Justin Davis, John Kelly, or both young running backs for Sunday's game. Second-year back Davis has played exclusively on special teams in 2018, while Kelly is yet to be active on game day. While Davis and Kelly have had few opportunities on offense when games count, both performed well in the preseason — earning trust from their head coach. 
"These are two young guys that we do have a lot of confidence in that have definitely shown positive signs when they've had their opportunities really, particularly, in the preseason and some of these practices that we've had," McVay said. "Sometimes, you never know when your number is going to be called and they'll be asked to contribute in a big way this week."
Gurley said he doesn't see Davis or Kelly struggling to move the ball when they are provided the chance, but he did say pass blocking in the big leagues could pose more of a challenge.
"Definitely in the NFL, if you can't pass protect, you can't play," Davis said this week. "And I know we're going against a top-tier defense, that means that's got to be a priority."
Kelly wondered why the young backs were being asked about their ability to protect the quarterback when facing reporters ahead of what could be his first Sunday action. The rookie certainly is not lacking confidence with a noisy Soldier Field just a few days away.
"I think it's going to be more anxiousness than anything," Kelly said. "I don't really do nervous."
Strong pass protection and nerves of steel are both good things to bring to Chicago. The Bears offer one of the league's most menacing defenses, leading the league in interceptions (21), and in turnover differential at plus-12. Chicago's defense allows just 85.8 yards rushing per game, which is the second-fewest in the NFL.
Quarterback Jared Goff will have the chance to bounce back from his tough outing against the Lions last week. Goff completed just 51.5-percent of his passes, throwing for 207 yards with one touchdown and one interception against the Detroit defense. The former Cal Bear said he won't change much before meeting cornerback Kyle Fuller — who has six interceptions this season — and the rest of Chicago's skilled secondary.
"Just continue to try to take care of the ball," Goff said on how he can continue to improve in 2018.
As for what needs to be done in preparation for Fuller and the Chicago defense...
"Try to throw it to our guys," Goff said with a laugh. "Just take care of the ball and do my best and be conscious of that, I think. You've got to know that they are good when the ball is in the air, but I'm not going to do anything differently."
Then there's outside linebacker Khalil Mack. Mack leads the Bears with 9.0 sacks this season and has added five forced fumbles, 11 quarterback hits, an interception, and a touchdown in his first season as a Bear. The common theme out of the Rams camp this week has been knowing where the talented rusher is lined up ahead of the snap.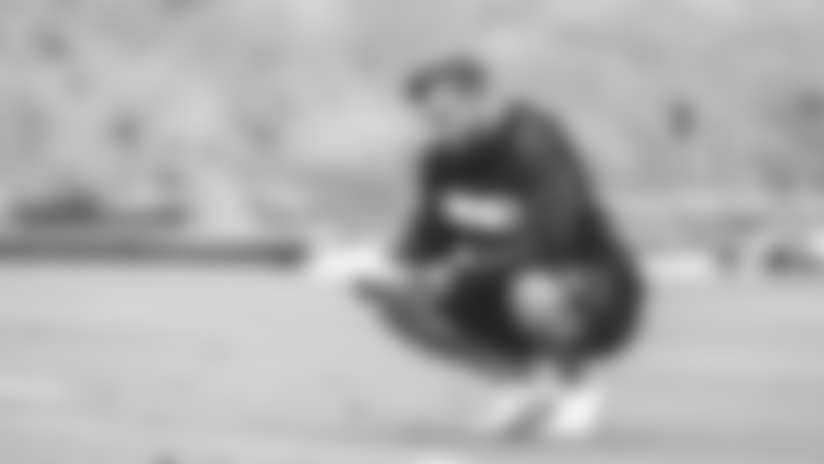 "Any time that you're a defensive lineman that can disrupt the game in a variety of ways, you've got to always be mindful of where he's at, where he's aligned and making sure that you've got to plan accordingly for him," McVay said. "Fortunately, we feel good about the matchup we have with our left tackle, but in a lot of ways, you always give a lot of respect to those special edge rushers. Certainly, Khalil fits that bill."
The Rams have their own rusher who's had offenses on alert in 2018 and is flirting with an NFL record that is 17 years unbroken. 
Defensive tackle Aaron Donald has posted six multi-sack games this season and three-straight entering Week 14. His 16.5 sacks is the third-most ever in a season by a defensive tackle, and is steadily approaching the NFL record 22.5 sacks with four games remaining. 
"Anything is possible," Donald said of potentially breaking the record, you just got to keep playing."