Quarterback Jared Goff has excelled in nearly every situation so far in 2018. 
He's completed 72.4 percent of his passes for 1,406 yards with 11 touchdowns and two interceptions. His 10.5 yards per attempt and 127.3 passer rating both lead the league, and he's within the top three of most major statistical categories. 
All of that earned Goff his first NFC Offensive Player of the Month award on Thursday.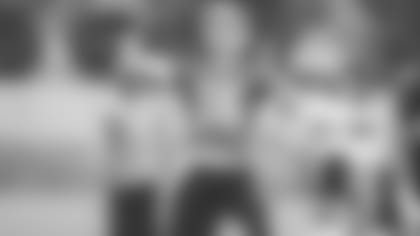 But if there's one area in particular where Goff has excelled, it's on first down. Goff has completed 46-of-56 passes (82.1 percent) on first down for 668 yards with six touchdowns — good for 11.9 yards per attempt and a 152.1 passer rating. Keep in mind, a perfect passer rating is 158.3.
Head coach Sean McVay has been aggressive when it comes to his play calling on first down, with seven of Goff's 11 completions for at least 25 yards coming in that situation. Four of those seven came just last week against the Vikings — including Goff's 47-yard touchdown pass to wideout Brandin Cooks late in the second quarter. 
So how is Goff reaching this level of performance? McVay says it's about staying balanced, which can keep a defense guessing as to what's coming. 
"You really look at it — I want to say in terms of our self-scout where we're taking it off, where it's those normal down-and-distances — we try to stay balanced if that's what the look dictates," McVay said. "Guys are making plays, we're protecting well and I think he's throwing the ball outstanding with the anticipation and accuracy. He's understanding what we're trying to get done and you're seeing him play really confident. When he's able to let the ball go like he is, trusting that his receivers are going to go attack it, trusting that they're going to be where they're supposed to be or the tight ends or backs, that gives you a level of confidence in terms of how you want to operate. 
"First-down efficiency, both on offense and defense, is key because then it really sets you up for the rest of the drive and how you want to operate accordingly."
"I think that balance that we've been able to maintain on first downs has been efficient for us with the run and the pass and the screen game, the actions," pass game coordinator Shane Waldron said. "So, all the little different things that we do to try to keep the defense on their toes on those normal down and distances. The offensive line has done just a great job of executing their assignments and keeping clean pockets for him. Obviously, when you get the skill players playing at a high level and you've got [RB Todd] Gurley back there, gives that good balance that keeps us efficient on those first and second downs." 
Of the Rams' 127 first-down plays, 69 have been runs and 56 have been attempted passes — which does keep the team pretty balanced, if not a bit run heavy. Overall, the club is averaging 7.83 yards per play on first down. 
Wide receiver Robert Woods said "a little bit of everything" is leading to that first-down success. 
"Knowing what our coach is going to call, I think just execution, focus, drive," Woods said. "And the biggest thing, we always come in the huddle, come off the sideline [saying], 'First play — it starts on the first first down. Let's get it.' And we know, we pick up that first first down, this offense gets rolling, and gets a rhythm going — most of the time we score on those drives."
And not that Los Angeles doesn't want to execute well on each and every play, but there is a bit of an extra emphasis on first-down performance. 
"We definitely want to stay out of what we call, 'Get back on track' — which is 2nd-and-8-plus," Goff said. "We want to stay out of it and we've done a pretty good job of that so far – staying in second and manageable and then third and manageable as well. It starts with that first play, like you're talking about. I think, so far, up to this point, we've done a good job of that."
"That's the thing — I feel like our offense, we all feel off of rhythm and flow," Woods said. "And that's the biggest thing with our offense, just get it going, pick up a lot on first down — this offense gets rolling. And we have our hurry-up offense — we have everything up ready to call. So it's literally just get the first first down, get the ball rolling, and let McVay get going."