The Rams went into the 2018 offseason looking to build depth on their offensive line. Los Angeles was the only team in 2017 that had its starting lineup healthy to begin each of the first 15 games — and the club would've been fine for the entire regular season if head coach Sean McVay had not elected to rest starters in Week 17.
Now as the 2018 regular season is about to begin, it appears the Rams accomplished that goal. When L.A. reduced its roster from 90 to 53 players, the club kept just one non-rookie offensive lineman in Austin Blythe — and he's a strong candidate to replace suspended right guard Jamon Brown for the first two games. But backing up the projecting starting lineup of — from left to right — Andrew Whitworth, Rodger Saffold, John Sullivan, Blythe, and Rob Havenstein will be the three 2018 draft picks.
Joe Noteboom, Brian Allen, and Jamil Demby have all performed well thoughout the course of the offseason program, training camp, and preseason games in order to earn those reserve roles on the 2018 squad.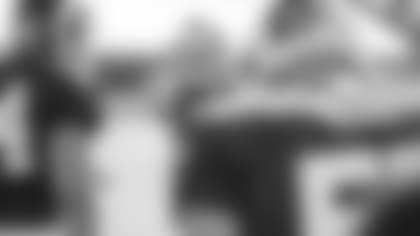 "They came in in the offseason and learned the skills and the knowledge that they had to have to have success blocking and running the plays that we want to run in the preseason," run game coordinator/offensive line coach Aaron Kromer recently told therams.com. "And they all three did that well." 
Still, there's something to be said for Los Angeles' staff having confidence in three rookies to step in and play if something should happen to one of the starters — especially early on in the season when Brown is serving his two-game suspension. 
"They're talented, and they have high football intelligence," Kromer said. "And that was a big part of bringing them in. And when you bring people like that into your program, what it allows you to do is play them at an early age because they can learn what you're trying to do and they can adapt to the techniques that you're looking for."
With preparation underway for Week 1, Kromer shared his thoughts on all three of the Rams rookie linemen who made the 53-man roster to open 2018.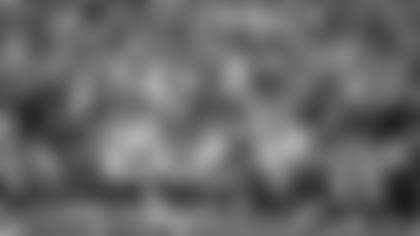 Did Noteboom come along faster than you expected since he wasn't part of a pro-style offense in college?
"Joe really was productive in the preseason and it started from Day 1. He has the talent, the size, the strength to play early in this league. What he did was adjust some of the techniques he was using, and it made him a lot better as opposed to just a little bit. And it enabled him to play a lot stronger. And that showed up on tape." 
Is that rare for a young tackle to be able to have that success so early nowadays?
"With the amount of players you're allowed to have, and we do have a lot of offseason practices nowadays with the OTAs and the minicamps — so you have a lot of opportunity to work on these things. Even though they're not in shoulder pads, you're still working your technique. You're still working — whether it's individual drills, team drills — there's a lot of time to work on these things in the offseason. Now, when you show up for training camp, when you put the shoulder pads on and you're going more full-go, you just have to take those techniques over and use them in the team periods. And that's what he did." 
How much of an advantage is it that he could go to Whitworth and ask questions?
"With all three of these guys, that is the No. 1 advantage we have at this organization, is there's a precedent set where the veterans help the younger players get better. Because there might come a day where they need that person to play well next to them — or instead of them for a couple games. When you have that mentality and that attitude as a team, the young players play better quicker."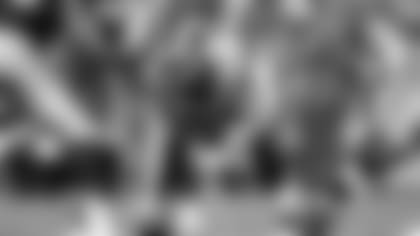 Did Allen have an advantage coming in given that he played in a pro-style offense?
"He did. Brian did play more of a pro-style offense, and he's another player who's smart, who was coached well in college by [Michigan State offensive line coach] Mark Staten and has the physical ability — being a state champion wrestler in Illinois. And he has that physical ability to almost grapple inside with these nose guards." 
How much of that has to do with his mentality? He seems like he has a real tenacity to his game.
"Well, yeah, he is tough — mentally tough. Everybody's that plays in this sport is tough, physically. But mental toughness is what make the difference between great players and good players. And he's mentally tough. And some of that stems from, I think, that one-on-one wrestling that you do growing up all the way through. That can't hurt you."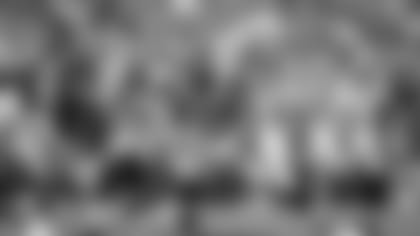 What did Demby do to impress you throughout camp and the preseason?
"Jamil Demby, being a later-round draft pick, playing at a small school like Maine — he had the furthest to go. But what he shows you is more potential to be a multi-faceted player. Obviously, we play all these guys at a lot of positions in training camp and the offseason to try to find out what's best for them, and try to get them ready for whatever's needed. And that was a little bit tougher for him, because he's been a left tackle his whole life — what he's always done. And so, he's got a lot of developing to go — and they all three do. But we're glad to have him."