NEW ORLEANS — Luis Perez has patiently waited his turn. 
Throughout the first three games of the preseason, the undrafted rookie quarterback out of Texas A&M—Commerce has stood on the sideline as Sean Mannion and Brandon Allen split duties as Los Angeles' offensive signal-caller. 
And even during Thursday's contest against New Orleans, Perez had to wait maybe a little longer than anticipated when Allen played the first two offensive possessions of the second half. 
But then with 11:23 left in the third quarter, No. 9 strode onto the field to lead the offensive huddle. At long last, Perez had his opportunity.
"It felt great," Perez said postgame. "It felt great to just break the huddle, take the ball under center — just great to be out there with those guys and just be able to put in everything that I've been able to put in these last two months on the field, which is awesome."
The 24-year-old quarterback had an up-and-down night, completing eight of his 15 passes for 43 yards. He threw an interception, but the takeaway ended up back on Los Angeles' possession after wide receiver Steven Mitchell forced a fumble on the play that the Rams recovered. 
But Perez did make some nice throws, recording consecutive completions to wide receiver Fred Brown and tight end Johnny Mundt. 
"I feel like I could have done better of course, but first NFL game — I thought I did an OK job," Perez said. "A lot to learn from. I'll have to go back and watch the film, and it's never as good, never as bad [as you thought]. You just have to go back and look at the tape and learn from it and get better."
"I thought Luis got in there and to be in the position that he was in, to get the chance to be competing in games like this is a great story. It's a great credit to him," head coach Sean McVay said. "A really impressive person, unbelievable guy — really I've enjoyed being around him and I think it was fun for him to get out there. I wish we would have had a little more success as a whole, but he's a special guy. I think his family was here tonight and this was a special night for Luis."
As memorable as Thursday night was, Perez is well aware that his time with the Rams could be coming to an end given the current composition of Los Angeles' quarterbacks room. 
"Hopefully I do stay," he said, "but if not, hopefully I did enough on tape to be able to be picked up by another football team."
And Perez has learned a lot just from being around McVay, quarterbacks coach Zac Taylor, Jared Goff, Mannion, and Allen over the last few months. Perhaps the most important thing, he said, is learning the best ways to communicate as a professional.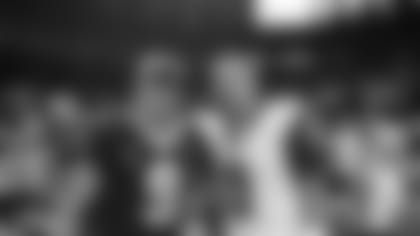 "It's a lot different when you're talking with 18, 19-year-olds, then you're talking with Andrew Whitworth who is [36] years old … he has [four] kids and is a husband. It's a lot different," Perez said. "You have to know how to communicate in certain ways so they react accordingly, so that's one thing I definitely learned."
And no matter what happens, Perez says he's enjoyed being a part of the Rams organization in the lead up to the 2018 season.
"All these guys playing here are great, they're awesome, they are here for a reason, they are in the NFL. Only one percent of people in the world get to be here, but you know just from learning from Goff, coach McVay, coach Taylor — I know I can play once I learn and just get the flow of the game," Perez said. "The speed of the game is different whether you went to USC or Texas A&M-Commerce, it's going to be a jump. So it's all about adjustments and just learning."