For the second-straight Sunday, the Rams waited patiently to learn their next playoff opponent. And just before 5:00 p.m. PST, Eagles quarterback Nick Foles threw a pass that went through the hands of wide receiver Alshon Jeffery and into the grasp of Saints cornerback Marshon Lattimore. The Saints offense picked up a first down, ran out the clock, and won the Divisional round game in New Orleans — setting the stage for Rams-Saints round two.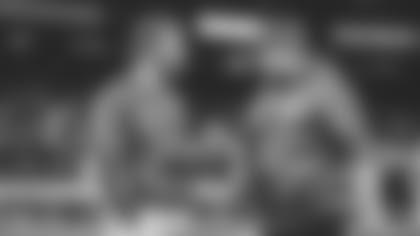 "I was really impressed with the way Philly started that game and I was really more impressed probably with the Saints ability to keep it together, weather the storm," head coach Sean McVay said after learning his next opponent.
"Then if Lattimore doesn't make that pick, it'd be interesting to see because Foles has four downs. Ultimately, the Saints got it done and that's what makes them a great team — they've consistently closed out games this year and that's why they are in the NFC Championship."
The Rams will head to New Orleans for the third time this season — if you count L.A.'s final preseason game back in August. McVay's NFC West Champs took their first loss of the season in New Orleans when games counted in Week 9. The Rams surrendered 487 total yards of offense to future Hall of Fame quarterback Drew Brees and his primary playmakers in running back Alvin Kamara and wide receiver Michael Thomas.
Thomas had a particularly strong game against the Rams, finishing with 12 catches for 212 yards and a game-sealing 72-yard touchdown reception.
When McVay was asked on Sunday evening what carries over from the Week 9 loss, the head coach was quick to point his team will look at the Saints' entire body of work in preparation for Sunday, but said Brees and company just made more plays.
"They did a great jumping out to a lead and I thought we were able to come back and we showed some mental toughness to be able to get it back to 35-35," McVay said. "But then at the end of the day they made enough plays being able to get it done at the end and we didn't make enough plays."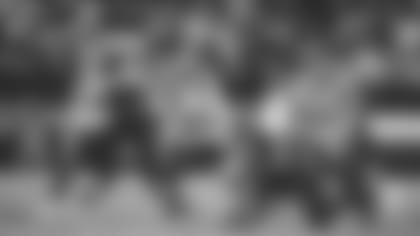 McVay took his team's resilience as a positive when the comeback fell short in the Superdome. The Rams lost to the Saints, but bounced back with a blow-for-blow win against the pesky Seahawks in the Coliseum in Week 10, and then topped the Chiefs in a classic on Monday Night Football in Week 11.
And then there's the noise — which the Rams can't quite mimic at their Cal Lutheran facility.
"I think what you can really take away is you get a chance to play that opponent but you also get a chance to feel what a tough atmosphere that is to play in," McVay said. "I think there's, a lot of times, fear of the unknown and now that we kind of know what to expect with a great crowd and how that's going to have to alter some of the things that we'll do specific to offense and our communication — I think we can use that as a positive."
McVay also said having cornerback Aqib Talib should help against New Orleans' well-oiled offense. Talib watched from the sidelines as cornerback Marcus Peters tried to slow Thomas on his career day.
"I think just having him out there, his veteran presence — like we've talked about a lot, his ability to communicate, his ownership and his study throughout the course of the week — in terms of just his situational awareness, concept recognition and then most importantly, his ability to communicate," McVay said. "So, when you get your two guys out there on the edges, I think that will enable us to do some different things coverage wise — be a little bit more flexible[.]"
The Rams now know they must beat the Saints and beat them in New Orleans. A win away from the Super Bowl in his second season as a head coach, the 32-year-old McVay put it simply.
"It's going to take a great week of preparation from us," McVay said. "We know how good of a team the Saints are and we have a lot of respect for them, but we are going to go there and give it our best shot, compete to the best of our ability and see what happens."