A new head coach only gets one shot at his first NFL training camp.
Rams head coach Sean McVay will get his chance tomorrow with the opening practice of 2017 training camp. Though McVay has been with the team throughout the offseason program, Saturday marks his first chance to truly set the foundation for a strong season.
Speaking to the media on Thursday, McVay expressed his enthusiasm to get started and his eagerness to take the field with his team.
"I know myself and all the coaches are all excited to get going and I feel like the players share that same feeling," he said. "It's about that daily improvement. If we do that, we feel like we'll make those incremental improvements every single day that will lead to good things when those games come around on Sundays."
But those good things won't come easily. McVay inherited a Rams team that has not seen a winning season since 2003 and has yet to make the playoffs in the last decade. And last season's 4-12 record was not exactly the dynamic return to Los Angeles that Rams fans were hoping for.
As most Angelenos know, sports fans here in L.A. can be some of the toughest critics out there. However, McVay expressed confidence that training camp would allow them the space needed to create a good product for fans on the field, a product that will carry over into the regular season.
"I think the thing with training camp is like we've talked about — it's really coming together as a team and figuring out a way for everybody to reach their highest potential," he said. "Because ultimately as coaches, it's our goal to try to help these players reach their highest potential and come together as a unit. It's about us trying to be the best football team we can be."
The next three weeks will be a significant indication as to what the team will look like. McVay, along with the rest of his staff, has had to face a number of challenges in the time leading up to Saturday's camp, including various contract negotiations and roster changes.
Fortunately for Rams fans, football comes naturally to the young coach, and even in his time off, McVay's mind was always on the game.
"I did try to get away a little bit. I went on vacation with my family and with my girlfriend," he said. "It was good to get away, but sometimes you get that playbook out, or you get some of the things out that you want to [get] going into the offseason program. But, it's exciting to be back and be around these players. This is what you love to do."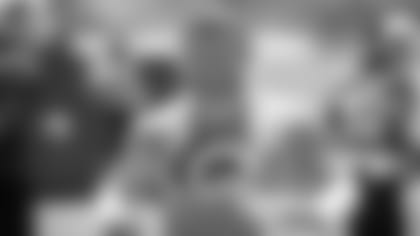 Both his players and staff members alike have experienced that love firsthand. General Manager Les Snead has spent the last seven months getting to watch McVay adjust to life as a head coach and is quick to comment on McVay's passion for the game..
"I could go on for days," Snead said. "[McVay] has a passion for football — eats, sleeps, breathes football. He is all about football. We have joked that we have got no life skills, but we can do football and I think every decision he makes is all about 'how do you help the Rams?'"
McVay will set out to achieve that goal during training camp over the next three weeks by continuing to instill and establish a new identity for his Rams team —  promoting an attitude within the Rams organization that is focused on the "we" and not the "me."
"We're always trying to embody a culture where it's established through our character and communication," he said. "There's something special about being a part of something bigger than yourself. When you have great teams, that's when it ends up becoming a championship opportunity."
"When you look around the sports environment you see a bunch of great individuals, but for some reason they haven't achieved it," he added. "They always want to be a part of a team. And when you go through some of the adversity we're inevitably going to face, and some of the good times, it's all about that journey."
And for McVay, that journey begins tomorrow as he takes the field for his first training camp as an NFL head coach.