Saints head coach Sean Payton is preparing to face the Rams for the third time in three seasons in Week 9.
In 2016, Payton's Saints defeated the Rams 49-21 in quarterback Jared Goff's second-career start. Last season, Goff and the Rams got revenge back home at the L.A. Memorial Coliseum — beating the Saints 26-20. Goff threw for 354 yards in that game, one yard shy of his then-career high, which remained until Week 4 of this season, when Goff threw for 465 yards against the Vikings.
With the upcoming rubber-match of sorts (the Rams will once again play the Saints in 2019), Payton is readying for an improved Goff and the league's best rushing team, as well as a disruptive defensive front.
"It's extremely hard," Payton said plainly when asked how to prepare for L.A.'s defensive line.
"I think both those tackles obviously have great disruption, they quickly can get on an edge — you see that with [DT] Aaron [Donald]. We are just at the midway point right now and he's got season sack numbers, so it is difficult."
Donald boasts an NFL-best 10.0 sacks through eight games this season. No. 99 has now brought down the quarterback in five straight weeks — a feat that he's accomplished once before, back in his rookie season in 2014.
Payton knows he must protect his future Hall of Fame quarterback from more than Donald alone. The 12th-year head coach in New Orleans mentioned both defensive tackle Michael Brockers and L.A.'s latest addition, outside linebacker Dante Fowler, as threats to his offense.
"I think Brockers is playing well and he's a handful, so certainly when Fowler gets added, I'd expect him in some of the nickel-rush packages. But it starts inside with your ability to work to contain and limit the explosive opportunities that those guys inside have, and I think that's a challenge."
Payton and the Saints will be up against an L.A. defense that features five first-round draft picks in Donald, Brockers, defensive tackle Ndamukong Suh, linebacker Mark Barron, and now Fowler.
Donald, Suh, Brockers, and Fowler have a combined 44 sacks since the start of 2017.
Payton also spoke extensively about the other side of the ball, and what his well-established relationship working with quarterback Drew Brees is like.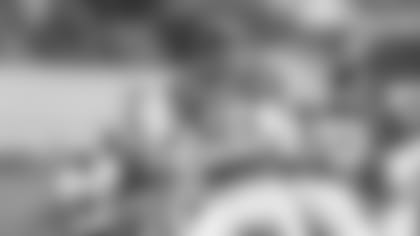 "For a coach, it's paramount — especially with today's game — to have someone at that position that you feel like really becomes somewhat of a coach on the field, who is talented and prepared," Payton said.
Payton and Brees have spent 12 years together in New Orleans and assembled quite the resume and rapport since 2006, including a Super Bowl XLIV title back in 2009 when the Saints beat the Colts.
Payton then applied this thinking to head coach Sean McVay's blossoming connection with Goff, and the possibility of what's to come in L.A. given the pair's youth and success on the field in just a season and a half.
"We had Jared at the Pro Bowl and you could just see his approach and how he prepares to play," Payton said. "I think that, obviously, is a great sign for Rams fans when you look at the roster age of this team and you look at the age of the quarterback, shoot, the age of the head coach – those are all positive signs for that team. Very quickly, the fortunes change."
The Saints play caller is of course pointing L.A.'s relatively recent turnaround, which may feel like a distant memory to anyone following the undefeated Rams.
Payton will go against the best version of McVay and Goff's Rams to date on Sunday. L.A. is 19-5 since the beginning of 2017 and yet to lose in 2018. The franchise leads the league in rushing with the NFL's best back, and demand attention from offensive minds — lining up the league's leader in sacks.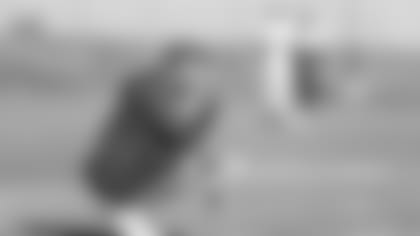 "Having done this a long time, you prepare sometimes for what type of game you think it might be and it's the opposite," Payton said, knowing his Saints must be ready for anything come Sunday's game atop the NFC West against a Rams team that has won by any means necessary in 2018. 
"We've had similar games with the Falcons and they've had explosive offenses now for quite a while. Sometimes it turns into games where they're clicking on both cylinders and then sometimes it turns into a different type of game, so it's hard to predict. What's important is, your ability to recognize and adjust as the game is going on to what's happening."
Payton will look to even his record against Rams to 4-4 as the head coach in New Orleans.