As part of the Rams' celebration of Black History Month and the story of Kenny Washington, the organization is highlighting four staff members throughout February who helped bring the "Kenny Ran So I Could" campaign to life.
We conclude the series with Video Producer Yusuf Rowser.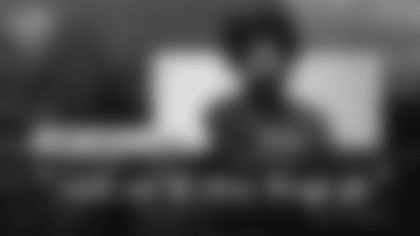 Yusuf Rowser's biggest inspiration today comes from both individuals and groups, including director Ryan Coogler and RDCWorld.
"Before he garnered notoriety from being the director of Black Panther, I was inspired by his unconventional journey to the film industry," Rowser said of Coogler. "It gives me hope in knowing that blessings come at a different time and pace for everyone. I also find inspiration from the group RDCWorld, with them just being amazing young black creators that are pushing the envelope in content creation while also creating safe spaces for black geeks and nerds."
Rowser gets to channel that inspiration into his current role of Video Producer for the Rams, most recently through the film Kingfish: The Story of Kenny Washington. He was a producer/cinematographer on the film – which chronicles Washington's career and him reintegrating the NFL in 1946 – and involved in selecting the Black-run creative agency the Rams would partner with, which would be The Blk Originals, among other roles.
"From a production standpoint, the team and I listened to pitches from external black run creative agencies to work with and bring the film to life," Rowser said. "After choosing The Blk Originals, I aided in overseeing the story and structure of the film, providing feedback along the way. As a cinematographer, our team conducted interviews with coaches, staff, and members of Kennys family to be used throughout the film."
Entering his fifth season with the Rams, Rowser specializes in feature editing, in-game video content, and cinematography. He began his time with the organization serving as a video coordinator for coaches' video on the football side of the organization for one season before transitioning over to the creative production "Rams Studios" internal media team, "where my passions for cinematography and storytelling have flourished."
Rowser said the best part of his job is the variety of work he gets to do – the Kenny Washington film being an example of that – which has played an important role in those passions flourishing.
"Being a part of the studios team, we don't just focus on football and what's happening on the field," Rowser said. "We get to really step outside of the box and explore how we can be innovative. We also go out into the community and find stories about real people with unique points of view and experiences. Ultimately, we aren't put into a box; I've been a cinematographer, a director, producer, editor, and a grip. It's been crucial in broadening and cultivating my skills in the filmmaking realm."
Besides inspiration from other Black creatives, what also drives Rowser is family.
He points to his dad as the person who has helped him the most in his career, having taught him the 5 p's: "proper preparation prevents poor performance."
"That's something I've carried with me for years and try to instill it in everything I do," Rowser said.
"(And) honestly, outside of achieving personal goals, I'm motivated by continuing to make my family proud and seeing the smiles on their faces whenever I check off a new accomplishment. They're really the ones who I do everything I do for."
For Rowser, inspire change is all about action that creates a positive future outcome.
"To me, inspire change means to put in place policies and actions that can have long-term positive impact on underprivileged individuals and communities," Rowser said. "I think the new coaching fellowship that we here at the Rams have developed is a great example of how to elicit real change."
When it comes to celebrating Black History Month, Rowser encourages spotlighting all forms of Black excellence.
"We should be celebrating BHM by shining a light on Black excellence in its various forms," he said. "It's one thing to honor the past and history that has come before us, that will always be important especially as many continue to try and re-write history. But it's more equitable to empower present day excellence and cultivate the future generations of black excellence to come."
And for Rowser, "Kenny Ran So I Could create and tell stories through film."