On Monday, June 10, the Los Angeles Rams Rookies hosted a free, co-ed Football Clinic for students from three Watts-area schools. The clinic took place at Dymally High School in Watts and featured students from Drew Middle School, Grape Street Elementary School, and 112th Elementary School. Student-participants engaged in a variety of football-related drills followed by a discussion facilitated by the Rams players about the qualities of good character both on and off the field.
For Rams Safety Taylor Rapp, the clinic brought back fond memories of his childhood when he would attend youth football camps and clinics. He appreciated the opportunity to provide a similar experience to youth and pay forward his knowledge to members in the community that are thrilled to embrace him.
"It's extremely important to get out here and help the kids out," said Rapp. "It feels like yesterday I was out here running around in my hometown of Bellingham (Washington) at a kids camp, so it means a lot to be here. This is my community now. This is my family, so we're just trying to reach out and provide support and help out the community as much as possible."
Rapp also shared some advice with the students that his parents had once instilled in him - to work hard at everything, no matter the task. He was told that applying maximum effort off the field would translate to success on the field, which eventually catapulted Rapp on his own football journey and led him to play at the professional level for the Los Angeles Rams.
"A big message I had for them was to work hard no matter what you're doing," said Rapp. "Even off the football field, work hard in everything. Everything carries over. That was a big foundation that my parents taught me as a little kid - put in maximum effort in everything that I do."
Observing her students with a smile was the Principal of Dymally High School, Darvina Bradley, who is proud of the integral role the Rams are determined to play in improving the lives of local students. She believes that the partnership with the Rams and Los Angeles Unified School District has provided students and their families with opportunities they may not have had in years past.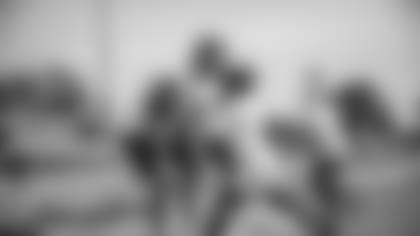 "Having this event here today is monumental. It provides inspiration for our students that they can aspire to be so much more than what they see here in their everyday surroundings," said Bradley. "To have the Rams take an interest in our community is so great for me because we're an underserved community in a lot of aspects. To have the Rams be a voice for us and provide motivation to our students is immeasurable. It's priceless because it affords our students the opportunities like this - to have camps, clinics, and to meet individuals that will be their role models."
Bradley also pointed to the large number of girls that showed up ready to play and learn from the Rams players as a result of their school's encouragement for everyone to come participate.
"We're excited about the girl power that turned out too," said Bradley. "We're co-ed and we like to encourage everyone to participate so this is really great."
During the clinic, the Rams worked alongside community partner Beyond the Bell, an organization whose goal is to provide high quality, safe, and supervised education, enrichment, and recreation programs that engage and inspire learning and achievement outside of school for all children in the Los Angeles Unified School District. They work to strengthen their programs by building partnerships with those committed to the same purpose in the greater Los Angeles Community.