For the vast majority of his career, Ndamukong Suh has lined up as an interior rusher.
He's done that a lot in Los Angeles, too, starting games as the Rams' nose tackle in the club's base 3-4 defensive alignment.
But over the last few weeks, Suh has been particularly effective on the edge.
The Nebraska product recorded his first sack as a Ram on Chargers quarterback Philip Rivers in Week 3, rushing from left defensive end. And then last week against the Vikings, Suh recorded his second sack of the season — again rushing from the left end.
It's not the biggest sample size, but the Rams have clearly found some success with Suh on the outside.
"Yeah, I enjoy being able to be moved around," Suh said on Monday. "It's something I've always prided myself on, since I was really a rookie and got an opportunity to move around like midway through that year.
"So, being able to play end, tackle, nose — anything I'm asked to do. I'll stand up in the linebacker position if I can, which I've done before," Suh continued, drawing a laugh from the media. "But whatever they need me, I'm happy to do."
Given Suh's prowess as an interior rusher, when he puts his hand in the grass at defensive end, it can catch offensive linemen off guard.
"Usually it's after the play that they'll say something. But I think they'll notice I'm out there a little bit more now. But we'll see," Suh said. "I wish I got a chance to go against my old teammate, Riley Reiff. We spoke after the game. But nonetheless, I enjoy being able to play as long as I'm on a football field."
One benefit of having Suh rush from defensive end on this particular team is that Los Angeles also has 2017 AP Defensive Player of the Year Aaron Donald. Suh had previously mentioned how when it comes to pass rushing, the defensive end usually pairs with the defensive tackle on the opposite side of the unit. And on both of Suh's sacks in 2018, he's been at left end with Donald at right defensive tackle.
"That's my goal every time I get out there at end, is be opposite of him," Suh said. "People who understand football really understand that the ends and the tackles work together — not only because they're side to side, but really because they're opposite of each other. Pushing the pocket in different ways, understanding how he rushes, understanding having a great inside rusher like 'Brock,' [Michael Brockers] as well as the rookie [John Franklin-Myers] coming from the other side — as long as we're collapsing the pocket.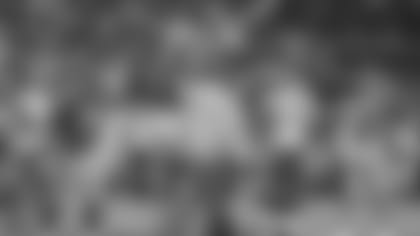 "But it's really the left end and the right tackle are working together, and the left tackle and the right end are working together," he continued. "And that's kind of how it flows when you look at different pieces of getting pressure and pushing the quarterback one way or the other."
The Rams would certainly like to get more sacks — having recorded a total of eight since the start of the season. But with 4.0 in the fourth quarter last week, and Suh seeming to get more comfortable on the edge, there should be plenty more in store for Los Angeles' defense as 2018 continues.