The Los Angeles Rams started the first quarter of the season unbeaten and continued to improve offensively within those four games. In Week 5, the Rams traveled to Seattle where they earned their fifth consecutive win and became the only team in NFL history to have a trio of receivers break 400 receiving yards in the first five weeks of a season. By the end of Week 5, running back Todd Gurley II led the league in total touchdowns with nine and was second in total rushing yards with 415. Quarterback Jared Goff also led the league in passing yards with 1,727 yards.
However, sometimes the most overlooked part of the offense are the biggest guys on the field. Through Week 5, the offensive line led the league in average time to throw with 2.57 seconds, according to SportRadar – an online statistical database. Those seconds might sound like the blink of an eye to the average person, but to a quarterback, those seconds are what make the difference between throwing a 47-yard touchdown right into the hands of wide receiver Brandin Cooks and getting blind-sided by a six-foot-something, 300-pound human semi-truck.
Those split seconds perhaps explain much of the Rams' success on offense this season, and the players that receive the credit publicly, make sure the O-line's efforts don't go unnoticed.
"Without those guys, we're nothing and we know that," Goff said following the team's 35-23 victory over the Los Angeles Chargers. "It all starts up front…They're incredible."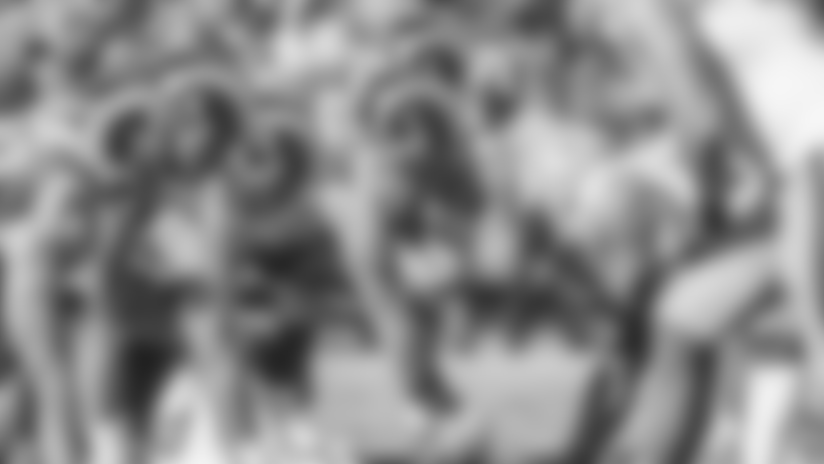 If you think there's something the offensive line bonds over more than football and food, then you're mistaken.
Prior to the start of the season, tackle Rob Havenstein signed a four-year extension with Los Angeles, keeping him with the franchise through the 2022 season. To celebrate? An O-line dinner at a local steakhouse. And even when there's no upcoming milestones on the horizon or flags on the social calendar, there's always a reason to get together and fellowship over some good food. Andrew Whitworth – the 36-year-old veteran left tackle and a 2018 team captain – leads the effort and regularly hosts the group at his home.
When asked what other activities they enjoy doing together outside of work, guard Rodger Saffold III exclaimed: "We're offensive linemen…all we do is eat!"
That's a bit of an understatement considering they spend hours in the meeting rooms and on the practice field.
During film study, everyone is infatuated over the details. They critique one another meticulously and without offense. Run Game Coordinator Aaron Kromer, who's primary responsibility is coaching the offensive line, shares the driver's seat with his players, and encourages input from everyone in the room.
"It's constantly a conversation of, 'Is this the best? Are we doing it the correct way? And do you guys all agree one way or the other that this is the way to do it?" Kromer explained.
Defensive lineman Michael Brockers playfully refers to the O-line as 'tempo violators' because of how hard they work, even during walk-thrus – which are designed to rehearse plays at a much slower speed than in real time. The 'tempo-violations' executed by the Rams' O-line have proven beneficial for Brockers and the rest of the D-line who face them in practice.
Brockers singled out Saffold as his favorite player to go up against during practice. The two have faced off against one another for going on seven seasons and over 200 practices. Brockers believes that time spent, paired with Saffold's talent and ethic, contributed to his improvement as a defensive player.
"If our offensive line wasn't clicking, a lot of things offensively wouldn't click," Brockers said. "So, I think having that foundation to know that the offensive line is solidified, then you just have to worry about routes and where the back has to fit up in the run game."
Like Brockers, the players on offense believe their production is more substantial because of the offensive line's intelligence.
"John Sullivan is the MVP of information," Kromer said of the Rams center. "He's the MVP communicator. Between him and Goff, they really control the communication."
According to Goff, Sullivan runs the show up front by physically understanding the blocks and plays.
He argues that 'Sully' is one of the best centers in the league and Gurley agrees.
"Sully is the backbone of our offense," Gurley said when asked how Sullivan contributes to his production and the offense's collective success. "He helps keep me and Goff on the same page."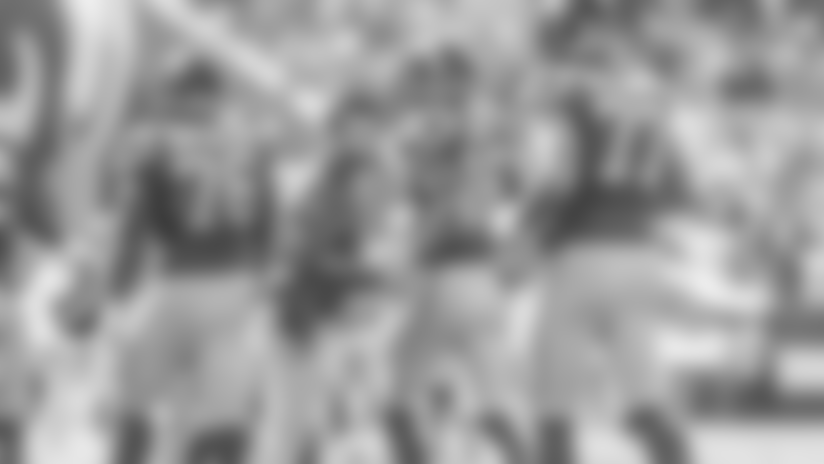 Don't Sweat…The Technique
No Ram has rushed for over 200 yards in a single game since Hall of Famer Marshall Faulk sprinted for 202 yards over the Carolina Panthers on Dec. 23, 2001. That changed in Week 6 when Gurley eclipsed Faulk's performance by six yards in 25-degree temperatures at Broncos Stadium at Mile High.
"Todd Gurley is the best right now," Broncos OLB Von Miller told reporters following the game.
When the cameras found their way to Gurley's locker, his praise went to the receivers, tight ends and the guys up front.
"It was kind of easy for me, honestly, because those guys did such a great job," Gurley said.
The Rams focused on adding depth to the offensive line early during the 2018 NFL Draft and spent their first two picks on tackle Joseph Noteboom and center Brian Allen. In Kromer's first year with the Rams, the team claimed Austin Blythe off waivers during the 2017 offseason. He saw action in all 16 games that season, primarily on special teams and occasionally filled in for Sullivan, who suffered in-game injuries in two contests. His offseason and training camp play caught the eye of Kromer and he earned and maintained a starting role on the line.
"I think the five guys that have been playing have shown consistency in their play," Kromer said two days before the Rams' Thursday Night Football matchup in Week 4. "Austin has been a big part of that."
With Blythe fitting in nicely, the Rams recognize their unique position concerning their depth, given the development of their rookie talents.
Kromer's proclamation was affirmed in the Rams' win over the Broncos as the O-line depth proved capable and effective.
L.A. carried a seven-point lead when Saffold exited the game in the fourth quarter. Blythe shifted to left guard in his place, while former lineman Jamon Brown substituted at right guard. On Los Angeles' next offensive possession, Whitworth was injured on the first play, which allowed Noteboom to step up for several plays. On that drive, Gurley rushed for 44 yards and set up a 21-yard-field goal, pushing the Rams ahead by 10 points.
Although the offensive line had to make several personnel changes, their versatility and preparation helped propel Gurley to his career-best performance of 208 rushing yards and two touchdowns.
"I think we feel like we can go out there and run the football on anybody," Whitworth said. "We work hard at it and we believe in it. It's a constant battle, but I think we really feel like this is something that is a part of who we are and something we can get accomplished every week."
The foundation of it all? Technique. It is, hands down, the most important and Kromer's No. 1 area of emphasis.
"Coach Kromer teaches a technique that I had no idea even existed until last year," Saffold – a nine-year NFL veteran – said. "He's also really detailed and really wants you to work that technique. We constantly work technique, so that's why we've been successful."
As the Rams offensive line continues to perfect their technique and execute, they gain an edge because they earn time – though it may only be a split second. So next time the Rams' center snaps the ball, count in your head, 'One Mississippi, two Mississippi, three Mississippi,' and see what the offense is able to achieve.