Veteran left tackle Andrew Whitworth is going home.
He's headed to the NFC Championship game against the Saints in his home state of Louisiana by way of a win.
It sounds simple. No team has a bye to the conference title game. You must win — prove you deserve to play for a chance to move on to football's greatest spectacle.
And for the first time in 13 professional seasons, Whitworth won.
The 6-foot-7, 335-pound, 37-year-old father of four didn't earn his first-career playoff victory riding the bench or tagging in and out of the Rams' 30-22 victory against the Cowboys on Saturday night in the Divisional round.
Whitworth played the same integral role leading the Rams' No. 2-ranked scoring offense on Saturday as he has all season. 'Big Whit' protected his 24-year-old signal caller and swept some of the NFL's best from the path of his newest running back duo. The father time of the offensive line didn't 'get' his first playoff win, he earned it.
Outside linebacker Dante Fowler Jr. could tell from the sideline.
"The intensity that Whitworth brought — he set the tone — especially with that touchdown that Gurley had," Fowler said. "That was really the tone-setter. I think that was the difference in the game."
If anyone recognizes an effort by an offensive tackle, it's an edge rusher like Fowler. But it wasn't just Fowler shouting out the behemoth, left-most member of the Rams' offensive line, which allowed just one quarterback hit and two tackles for loss against defensive end DeMarcus Lawrence and the Cowboys.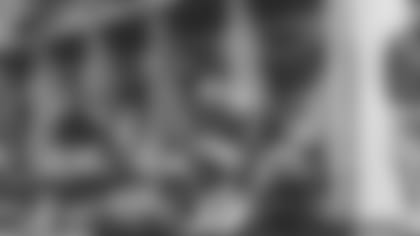 "It's incredible," quarterback Jared Goff said after the game. "It makes it all worth it seeing his face after the game."
"That's what's so special about football," head coach Sean McVay. "Talking about a guy like Andrew Whitworth who's been playing as long as he has, to see him play at the level that he played at tonight and then to be able to get his first playoff win with these guys — his teammates that I know he cares so much about and loves these guys."
In the play Fowler described as the tone-setter for the Rams' first playoff victory since what may have felt like the Dark Ages, Whitworth was on a mission, paving a path for Gurley with all 13 years of his NFL experience.
After making his initial block at the line of scrimmage, Whitworth shoved Cowboys safety Jeff Heath to the turf, prompting Fox's play-by-play announcer Joe Buck to exclaim to America how much room Gurley had to work with in the 35-yard touchdown dash.
"You see Whitworth taking over his blocks and you anticipate nice holes, but you don't see them until after," left guard Rodger Saffold told ESPN. "The hole Gurley ran through on the touchdown? I didn't see that until the replay, and I was like, 'You've got to be kidding.'"
Whitworth was at it all night, playing 100 percent of the offensive snaps. A first-time fan looking on from the Coliseum's stands, unknowing of the veteran's NFL impressive tenure could have easily confused No. 77 for one of his youthful teammates, striving for the chance to play one more game.
After his own first playoff win, Gurley said watching Whitworth get over the hump couldn't be described. The star running back seemed near guilty, reviewing his own experience — heading to the playoffs relatively early in his career.
"I've always appreciated him," Gurley said. "Most guys in my position — I've been winning my whole life. So, when you're in the NFL, you're not going to win every game. The chances of that are slim to none, so you just got to be able learn how to take those wins and those losses and just be able to get better each week and just bounce back from that."
Seven times, Whitworth finished the 16-game season, took the field as one of 12 left tackles with the chance to hoist the Lombardi Trophy, and played 60 minutes of playoff football only to go home. It happened six times in Cincinnati and once last season in Los Angeles.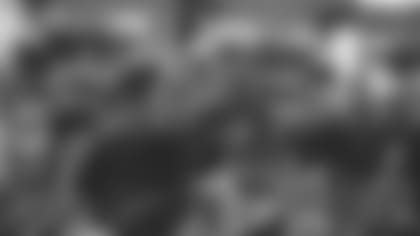 But on his eighth chance, Goff was kept clean, the Rams set a season-high in rushing yards with two 100-yard rushers playoffs for the first time in franchise playoff history, and for the very first time, the captain is on to the next.
"It's great, but you know what, I feel like this team has potential for more than that," Whitworth said. "So it's a great feeling and I'm happy to have it, but I didn't try to get to the playoffs to just win a playoff game. I'm trying to win a Super Bowl. That's the only focus and now we are one step closer."