Throughout training camp, Rams insider Myles Simmons will share his top 10 observations from each practice.
1) Los Angeles' antepenultimate training camp session began with special teams working on kickoff return. Coordinator John Fassel started out with the front eight players on the return team on one field, and the back three on the second. Then they came together on one field with a scout kickoff. 
2) After a pair of solid practices on Saturday and Sunday, head coach Sean McVay elected to give many of the veteran players the day off. Offensive linemen Andrew Whitworth, Rodger Saffold, and John Sullivan were held out of practice, as was running back Todd Gurley given his heavy workload. Defensively, linemen Michael Brockers and Ndamukong Suh were among those with the day off.
3) After the special teams period, Los Angeles' offense began working on misdirection plays against air. Well, it was air except for the team's head coach, as McVay was out there covering receivers to give a certain look for different plays.
4) During individual drills, both the defensive line and linebackers worked on tackling. As you might expect, they didn't tackle each other so as to prevent injury. Instead, both units used a padded tackling donut. Once each player hit it, they'd dive onto a larger padded surface. It's a safe and effective way to become a more sure tackler. 
5) When the offense and defense first came together, McVay had them go into half-field drills. On one play, quarterback Jared Goff completed a pass to wide receiver Brandin Cooks on the left side. Cornerbacks Aqib Talib and Marcus Peters were both on the field for the play, and came back to the sideline in conversation about what had occurred. As wide receiver Robert Woods has said, even if something works against those two cornerbacks once, it probably won't work again.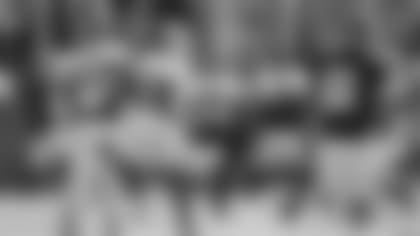 6) Speaking of Talib, he intercepted quarterback Sean Mannion on a pass down the seam later in practice. The ball was likely intended for tight end Temarrick Hemingway, but Tqlib stepped into the ball's path and picked it off. He went up the left sideline, visibly smiling as he made his way into the end zone for a (theoretical) pick six. 
7) With Whitworth, Saffold, and Sullivan all receiving a vet day, Joe Noteboom, Austin Blythe, and Brian Allen filled in at left tackle, left guard, and center, respectively. On one play during 11-on-11, Noteboom and Blythe combined on a double team to spring running back Malcolm Brown for good yardage on a carry to the left. 
8) With Gurley also receiving a rest day, running back John Kelly was another rookie who received extended snaps. He caught a screen on the left side during 11-on-11 drills and showed the same shiftiness he displayed during the matchup with Baltimore to make his way down the field.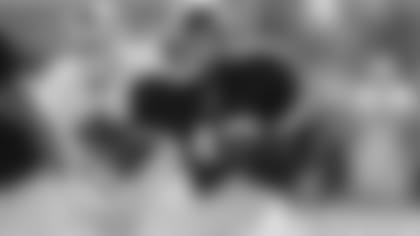 9) One of the new elements in training camp this summer has been the monitor on the sideline at practice. Its intention is to allow for instant film review during the session, which allows for quicker improvement. That happened today when McVay and Goff took an extended look at a red-zone play which resulted in a Cooper Kupp touchdown reception. While the play looked like a success, there was clearly an element of it that McVay wanted Goff to notice right away.
10) After an 11-on-11 period, McVay pulled the team together in the middle of the field and announced a competition to not only end practice early, but also get meetings canceled for the evening. But in order for it to happen, Noteboom had to catch a punt from the jugs machine. Fortunately for the team, Noteboom accomplished the mission — albeit after the ball first hit off his shoulder pads. 
The Rams have the day off on Tuesday, but will be back on the field for their penultimate practice at UC Irvine on Wednesday afternoon.