Throughout training camp, Rams insider Myles Simmons will share his top 10 observations from each practice.
1) The Rams were in pads for their penultimate session at UC Irvine. Head coach Sean McVay staged a pretty competitive practice, with a lot of starters vs. starters in 11-on-11 in order to better simulate a game-like experience.
2) Generally, the first-team defense had a strong day against the first-team offense. While quarterback Jared Goff threw a nice pass over the middle to wide receiver Brandin Cooks early in the first 11-on-11 period, he also threw an interception to safety Marqui Christian on the right side a couple plays later. Christian made an athletic dive to secure the ball before it hit the ground. The defensive sideline was pretty excited for him.
3) Christian continued his excellent day with consecutive plays in a red-zone period. He nearly intercepted his second pass of the afternoon, cutting in front of tight end Tyler Higbee on a shallow crossing route. Then he blitzed for what would have been a sack on Goff had he been able to hit the quarterback on the next play.
McVay said following practice that Christian has been working in the Rams' 'Dime' defensive package alongside safeties Lamarcus Joyner and John Johnson.
4) With right guard Jamon Brown's two-game suspension looming at the start of the regular season, the Rams worked in a pair of players at right guard during select periods on Wednesday. Austin Blythe — who filled in at center for John Sullivan a few times and started at left guard in Week 17 last year — was one such Ram. The other was rookie lineman Joe Noteboom, who has been repping at left tackle and right guard during training camp.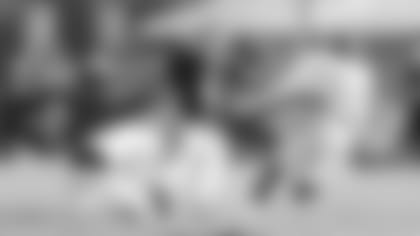 5) During one of the compete periods, the defense stopped the offense at the 41-yard line on third down. Kicker Greg Zuerlein then walked onto the field to attempt a 59-yard field goal. He nailed the attempt with room to spare for his second-most impressive field goal of camp. Zuerlein previously nailed a 63-yard field goal back on Day 6. [https://www.therams.com/news/10-observations-from-day-6-of-training-camp]
6) Wide receiver Pharoh Cooper flashed a bit during 11-on-11 with the second offense. With Brandon Allen at quarterback, Cooper had to go up to get a pass over the middle and made a nice catch deep down the right hash for a significant gain. A couple plays later, Cooper caught another pass down the seam from Allen.
7) There was one "hold-your-breath" moment during a later 11-on-11 drill with the starters. Outside linebacker Samson Ebukam was pass rushing against left tackle Andrew Whitworth and accidentally pushed him into Goff. The quarterback fell over, but was fine.
"To say I was holding my breath, I think it would be probably a little bit more than that," McVay said with a laugh after practice.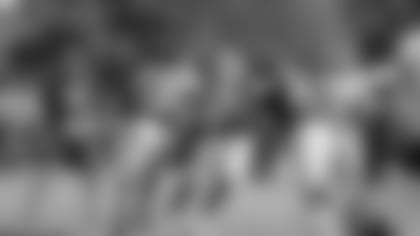 8) Defensive lineman Ndamukong Suh and inside linebacker Cory Littleton blew up a pair of first-team offensive plays in the same segment late in practice. First, Littleton came in on a delayed blitz for a theoretical sack of Goff. A few plays later, Suh made his way into the backfield at nose tackle to tag running back Todd Gurley for what would've been a tackle for loss. The defense was simply executing at a high level on Wednesday.
9) On a positive note for the offense, Goff found wideout Cooper Kupp on an intermediate crossing route late in practice. Kupp was able to get just enough separation from cornerback Aqib Talib to get open over the middle, and Goff found him with a sharp pass to Kupp's hands.
10) Quarterback Sean Mannion also had a nice pass late in practice, hitting Pharoh Cooper on the right side of the field on a deep out route. The ball placement allowed Cooper to keep running down the field for extra yards.