OWINGS MILLS, Md. — The Rams arrived on the East Coast Sunday evening and were well rested for their first practice with the Ravens on Monday afternoon. Here are 10 observations from the first joint session of the week.
1) The teams began practice on separate fields for stretching and some individual work. With the weather hot and humid — temperatures were at 90 degrees, with a head index of just over 100 degrees — Los Angeles' players said afterwards they needed a little time to acclimate to the more sticky climate. The crowd was raucous as well, especially considering it was a sweltering Monday afternoon.
2) During that separate period, the Rams' defense worked on regular individual drills while Los Angeles' offense ran through some plays against air. Those were likely plays they would end up running during the 11-on-11 sessions with Baltimore later on.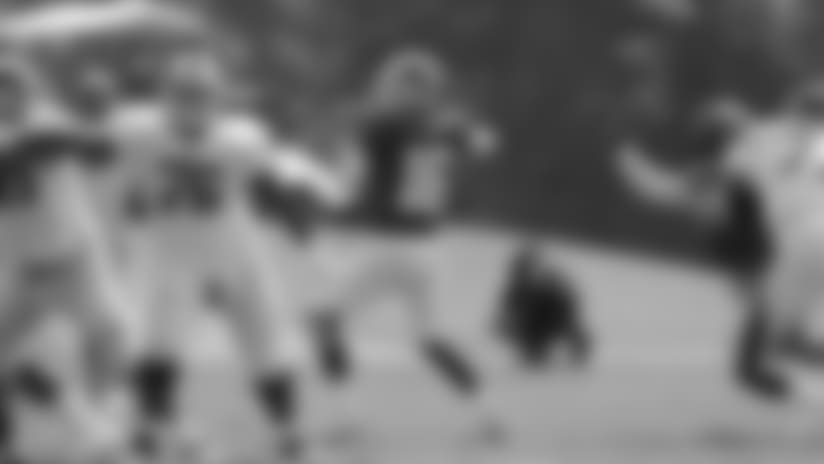 3) The teams began work with red zone 7-on-7 drills — Los Angeles' offense vs. Baltimore's defense on one field, and the Ravens offense vs. the Rams defense on another. On the first play for the L.A. defense, Flacco bailed out of the pocket to his left after his initial reads were covered. He eventually threw a pass for a touchdown, eliciting cheers from the crowd. Defensive coordinator Wade Phillips disagreed with the way the crowd interpreted the play, however, turning around to yell, "Sack!" With the strong coverage on that first rep, he was probably right.
4) Linebacker Bryce Hager flashed a bit in the early goings of practice as well. The fourth-year linebacker out of Baylor recorded a pass deflection on a swing route during 7-on-7. Then he had a nice thump on a run play during 11-on-11. Both plays came against Baltimore's second offense with Hager playing with the Rams' second defense.
5) Linebacker Ramik Wilson also made an impact during the first 11-on-11 drills. Playing next to signal-caller Cory Littleton, Wilson first made a run stuff on a play, coming up to hit the running back right at the line of scrimmage. Two plays later, he nearly had an interception after tipping a ball up at the line of scrimmage. Throughout camp, Wilson has shown a proclivity for getting his hands on the football.
6) The Rams defense generally performed well in that segment of 11-on-11, with Aqib Talib breaking up a pass over the middle to wide receiver Michael Crabtree. Then cornerback Nickell Robey-Coleman broke up a pass over the middle as well.
7) The Rams worked on their punt return against the Ravens between 11-on-11 periods. L.A. had returner Pharoh Cooper back, but only ran through a full punt return a few times. There was more work on fielding directional punts, two Rams players attempting to block a Ravens gunner, and going after a punt for a potential block. Baltimore head coach John Harbaugh was on the field to watch the drills, which makes sense as he was a longtime special teams coordinator for the Eagles.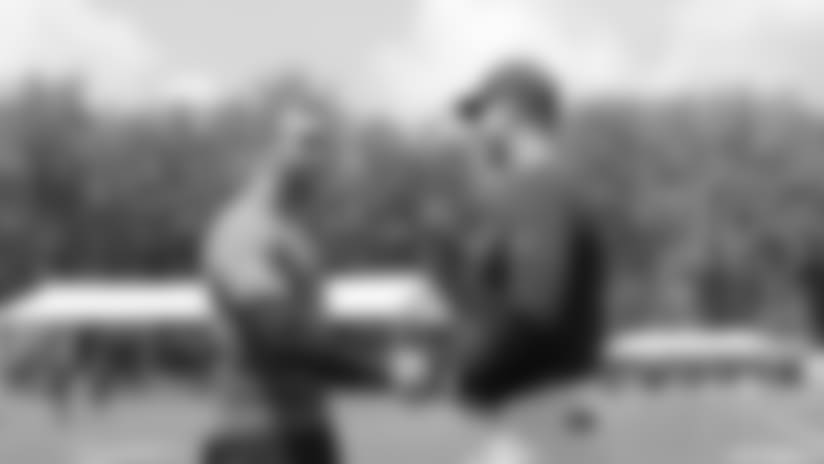 8) Los Angeles' offense did well during a third-down period. Going 11-on-11 with the Ravens' defense, quarterback Jared Goff connected with wide receiver Cooper Kupp on 3rd-and-short with a quick out route to the right. Goff then hit wide receiver Robert Woods on a pass over the middle for a first down on 3rd-and-long. Woods was wide open on the play.
9) Kicker Greg Zuerlein hit four of his five attempted field goals against the Ravens, the longest coming from 51-yards out. Reserve kicker Sam Ficken continued what's been a strong camp, nailing all three of his attempted field goals. Ficken's kicks were from 43, 46, and 48-yards out.
10) Finally, the offense ended practice with a two-minute drill. In the scenario, Los Angeles started at its own 20 with 1:11 on the clock needing a field goal. Goff engineered a successful drive, finding wideouts Brandin Cooks, Woods, and Kupp to move the ball down the field effectively. Zuerlein nailed a long field goal to cap the drive, giving the offense a win.
The second-team offense fared just as well, with quarterback Sean Mannion connecting with wide receiver Josh Reynolds and Ficken hitting his field goal for a successful drive.