In anticipation of the official schedule release date in mid-April, theRams.com will be taking an early look at each of the club's opponents for next season.
New Orleans Saints
The Rams will take on the Saints in Los Angeles next season, marking the fifth meeting in four seasons — and one postseason — between the two clubs, who duked it out for a date with the Patriots in Super Bowl LIII in the NFC title game a season ago.
Although the league's schedule release featuring dates and times is still a couple of weeks out, next season's matchup already has the makings of primetime affair. The Rams and Saints shared time atop the NFC for much of the 2018 campaign and it was the Rams who ended the Saints season a win short of football's greatest stage in a game that sparked controversy felt across the sports world and into the NFL owners meetings, prompting a major rule change in March.
Here's an early look at the Saints: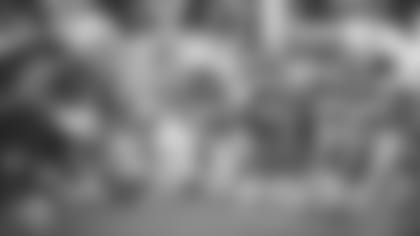 2018
The Saints finished 13-3 as NFC South champions in 2018. Head coach Sean Payton's club lost to Tampa Bay Week 1 before rattling off 10-straight wins through Week 12, a streak that handed handed the Rams their first loss of the regular season.
Future Hall of Fame quarterback Drew Brees iced his spot in football history Week 5 against Washington, going 26-of-29 for 363 yards and three touchdowns — an effort that moved the 40-year-old past quarterback Peyton Manning to become the NFL's all-time leader in passing yards. Brees reached his mark and put up an MVP-contending season in year 18, completing 74 percent of his passes for 3,992 yards, and 32 touchdowns with just five interceptions.
The Saints earned the No. 1 seed in the NFC following Brees' timeless campaign boasting the league's No. 2 rushing defense and No. 6 rushing offense with their chain-moving duo in running backs Alvin Kamara and Mark Ingram. Wide receiver Mike Thomas posted a career-high season in year three, grabbing 125 receptions for 1,405 yards and nine touchdowns — good for his first-career All Pro honors.
Matchup History
The Rams are 41-33 all time against the Saints and 2-2 in their previous four matchups. Under head coach Sean McVay, the Rams are 2-1 against the Saints, most recently topping Brees and Co. in overtime in the NFC Championship game in the Superdome.
Quarterback Jared Goff completed 25 passes for 297 yards and a touchdown in the game. Wide receiver Brandin Cooks has posted at least 100 yards receiving in his last two outings against his former team.
Ch-Ch-Ch-Ch-Changes
The Saints' offseason started with good news when Brees announced he'd be back for a 19th season — a decision that was followed by several moves surrounding the line of scrimmage in the Big Easy.
Veteran offensive lineman Max Unger retired from pro football following his 10th NFL season, which prompted a swift signing of former Vikings guard/center Nick Easton as a replacement. The club also made a move to return backup quarterback Teddy Bridgewater and added skill players in veteran tight end Jared Cook after two seasons in Oakland, along with running back Latavius Murray, who inked a four-year deal, which seems to have prompted the departure of running back Mark Ingram.
On defense, New Orleans welcomed Super Bowl LIII champion defensive tackle Malcom Brown to the squad, along with former second-round selection, defensive end Mario Edwards.
Head Coach
The Saints ready for season 13 under head coach Sean Payton. Payton is 118-74 (.615) at the helm in New Orleans. Payton has taken the Saints to the playoffs seven times and has won a world championship leading the Saints, beating Colts in Super Bowl XLIV.
What to Watch For
The Rams defense will be tasked with once again stopping both Thomas and Kamara when the Saints come to town next season. The explosive pair hurt the Rams in their respective ways in 2018, Thomas posted a career-high 212 yards receiving in the Week 9 matchup, while Kamara picked up 111 all-purpose yards in the NFC Championship game.
Goff should have his head on a swivel facing the pass rush of defensive end Cameron Jordan and Sheldon Rankins for the third time in two seasons. The pair combined for 20.0 sacks in 2018 and will now lineup alongside Brown, who went without a sack for the first time in four seasons as a Patriot last season, but brings his 39 tackles to the stout run-stopping Saints defense.
The Rams offense should feature rising third-year wide receiver Cooper Kupp, who is expected to return to football just in time for training camp after missing the final third of his second season, as well as the Rams' playoff run to a torn ACL. Kupp caught five passes for 89 yards and a touchdown against the Saints in the Week 9 matchup a season ago.