Defensive tackle Aaron Donald has the most single-season sacks by a defensive tackle in the history of the NFL with 19.5.
Donald etched his name into history with his second sack of the day, bringing down Cardinals quarterback Josh Rosen with 12:13 remaining in the fourth quarter. Donald passed both former defensive tackle La'Roi Glover and former Vikings DT Keith Millard on Sunday and now sits alone at the top of the all-time list. Millard's NFL single-season DT sack record (18.0) was set back in 1989.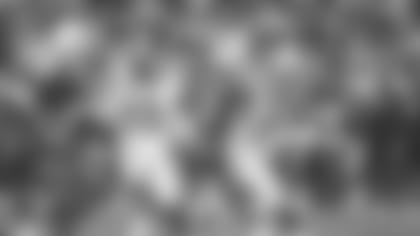 But then on the Cardinals next offensive drive, Donald struck again. The defensive tackle downed Rosen behind the line of scrimmage for his third sack of the night, breaking yet another record — the Rams' franchise single-season sack record, held by former Rams defensive end Robert Quinn (19.0).
Quarterback Jared Goff spoke from the podium in awe before the short flight back to Los Angeles.
"Amazing player, amazing teammate," Goff said. "It's truly amazing what he does at the inside lineman position and being able to get to the quarterback as often as he does — it's crazy. And again, I'll say this every time, I'm happy that he's on my team and I'm happy that I won't have to face him at any point. He's great and he's a tremendous player for us."
"It feels good," Donald said after the records were brought to his attention post-game. "It's what you work for and what you grind for — just to go out there and play the game, try to help your team to win it, and in the way of doing that, you just have success and any time you're rewarded and be a part of history it's a special moment."
Donald helped his team win its first game in three weeks with his seven tackles, four quarterback hits, and four tackles for a loss in the 31-9 victory. The pass rusher was joined by fellow defensive tackle Ndamukong Suh, who also had a sack in the game, as well as cornerback Aqib Talib, who finished with two passes defensed in a strong defensive performance to go along with running back C.J. Anderson's near-career high 167-yard rushing effort on offense.
"That boy came off the couch and did his thing, didn't he? Hey, he's a good football player," Donald said of Anderson's performance, when the running back could have said the same about the NFL's leader in sacks — well, minus the comment about the couch.
Donald hasn't had a sack since Week 13 in Detroit and totalled just four tackles and two quarterback hits in Weeks 14 and 15. Head coach Sean McVay spoke about how hard offenses are making it on his defensive star.
"It's been special for our team, but it's also been special to see the individual making so many elite plays when so many offenses are so cognizant of where he is at and how that dictates and determines how they're going to protect and do different things, but Aaron finds a way to contribute in a big way," McVay said.
"We did some stuff to help me," Donald explained. "They started sliding Suh a little bit and freed me up some. We worked some games inside to open up some stuff, so we did a lot of little bit of everything to just try to get each other free."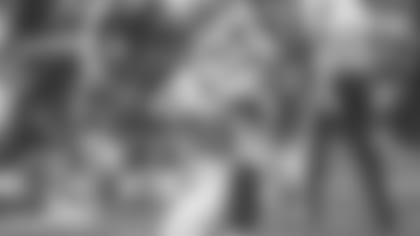 Donald, who has said sacks come in bunches, admitted that he was due following Thursday's practice preparing to get back on track against Rosen and the Cardinals.
Three days later, the Pittsburgh product cut his distance from the NFL single-season sack record in half. Donald now leads the NFL in sacks with 19.5, tackles for a loss with 24, and is just three sacks away from tying former defensive end Michael Strahan's record 22.5 sacks set back in 2001.
"I'm just going to play," Donald said when asked about approaching the 17-year-old record with only Week 17's game against the 49ers remaining.
All eyes will be on Donald in the season's finale Sunday in the L.A. Coliseum. It's worth noting that Donald sacked 49ers quarterback C.J. Beathard four times Week 7. A repeat performance will break one of the most impressive records in all of sports.