Bounced from the postseason on the game's greatest stage just over one month ago, the Rams entered an offseason that, with the turn of the league calendar in mid-March, is shaping up to be a few formative months that will look a bit different than early 2018.
And with OTAs, training camp, and the beginning of head coach Sean McVay's second defense of the NFC West officially qualifying as football activity that will be here before you know it, McVay's staff, along with general manager Les Snead and the NFC Champion front office are in the full swing of talking about next year.
The pair shared what they could from the NFL Scouting Combine in Indianapolis last week, providing the first glimpse at what a run back for the Lombardi could look like in year three of the McVay era.
"You could have free agency, both UFA — we can do it internally, cap casualties, guys who get cut," Snead said last week from the NFL Combine-branded press room, listing how he can "put the best version of the 2019 Rams" on the field next season.
After mentioning April's highly viewed and heavily speculated NFL Draft as his final means of acquiring talent, the GM answered the reporter's question — this offseason is different, starting with the Combine.
"Last year was kind of sexy, but the goal is not necessarily to be sexy," Snead said. "But it is — I'll keep saying it — to put the best version of the '19 Rams on the field."
The Rams added 10 players by way of the draft in 2018 — several of which competed in last year's first glimpse at the NFL's future in Indy. While prospects like former Ole Miss wide receiver D.K. Metcalf stole the early NFL offseason headlines and trended on Twitter at this year's combine, the Rams — who also met with a number of prospects who showed in on-field drills — have a pool of internal talent in their pocket, Snead's "less-sexy" option.
"[T]hat can happen from within, call it in the least-splashy way as possible," Snead said of improvement in 2019. "It could be that fifth-round draft choice from 2018 that didn't play a lot this year and he is penciled in."
Like rookie linebackers Micah Kiser and Ogbonnia Okoronkwo? Taken No. 147 and No. 160, out of Virginia and Oklahoma last Spring, respectively — who played primarily a special teams role, and did not see the field in 2018? Or would it be a guy like Southern Methodist product — turned Rams special teams member, defensive end Justin Lawler, who was selected in last year's seventh round?
Maybe, maybe not. Entry-level roles exist in McVay's system, though the Rams are for the most part a veteran team. However there were a few 2018 draft picks who budded in the Super Bowl season, and stuck a promising toe into significant professional action, like offensive tackle Joseph Noteboom, defensive end John Franklin-Myers, and center Brian Allen — each of whom played in 13 games or more en route to Super Bowl LIII.
Talking about developing talent is one thing as offseason conversations sweep the football media landscape — but focusing development has been a corner piece of the puzzle under McVay, especially when facing professional football's harsh reality of losing the aged or familiar pieces that stand out and often go missing at season's end.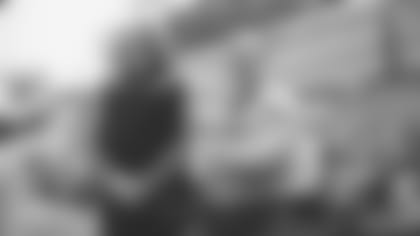 For instance, it's no coincidence the Rams rolled Noteboom out for meaningful minutes in auditions of sorts with one of the league's top (and aging) offensive line.
Snead provided the example of the 37-year-old veteran left tackle Andrew Whitworth working with the youths of quarterback Jared Goff's protective power for one more year, after the big man announced a 2019 return to football for a 14th season in February.
"Next year, that's a big bonus — you got one of our pillars in the locker room back — that's an even bigger bonus," Snead said. "He'll still be able to help develop some of our young offensive linemen that we drafted last year and we'll draft this year to take over the reins when he does decide to move on."
"Once you get in the season where, usually your first guys and some of those alternates that are playing in a situational role, they get the majority of the work," McVay said. "So I think it is important to be able to find some time with your coaches to develop those guys whether it be individual period, or if you have enough bodies you can create some competitive periods."
The Rams currently will pick seven times in next month's draft and if last year is any indication, the free agency market certainly won't be silent in L.A.
But it's worth noting that McVay and Snead's internal model seems to have stood up so far in Southern California — despite being disguised by last offseason superstar spree.
Safety John Johnson was taken in 2017's round three, two seasons before leading the NFC Champs in interceptions. Outside linebacker Samson Ebukam was selected two rounds later — a season and a half's worth of development from raining on MVP quarterback Patrick Mahomes' Monday Night Football parade in Week 11 with two takeaways and two defensive touchdowns.
For Snead, his "less-sexy option" is more than simple.
"We draft them, develop them and then, when they're ready and there's an opening, go fill it," Snead said. "And if you have to play them before that, make sure they're ready to do that."