When offensive lineman Jamon Brown's suspension was announced, the first question raised was who would replace him at right guard.
While Los Angeles had third-round draft pick Joe Noteboom work at that spot and at tackle during the preseason, it became clear once the regular season began that Austin Blythe would be the one to start between center John Sullivan and right tackle Rob Havenstein.
And now it appears Blythe may have played well enough to stay in that role — even as Brown returns.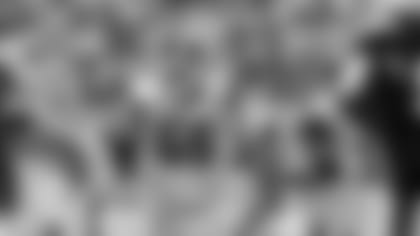 "When you look at it, we're going to kind of evaluate those things this week. I think Austin has played really good football," head coach Sean McVay said on Monday. "Jamon, as far as getting him back into the rhythm and different things like that, we will be mindful of that with how we practice this week. Those are things that we'll see as the week progresses."
That McVay wasn't ready to name a starter just as Brown came back wasn't too much of a surprise — in many ways that's a piece of strategy. But Blythe and Brown both acknowledged on Wednesday that the Rams' starting offensive line is poised to remain the same as it's been heading into Week 3.
Blythe told reporters that Los Angeles' coaching staff is "going to continue to try and let me prove myself, and I've got to keep doing that every week."
And Brown isn't expecting anything different, telling reporters, "I'm going to do whatever's asked of me. Blythe, he played well the first two weeks and I think he earned and deserves every right to continue to keep that up. I'll do what I can as far as staying prepared, and still practicing how I need to in person — every day the same. But right now, it's just doing what coach asks me."
It's not necessarily the best measure of performance, but Blythe does carry a 77.1 rating from Pro Football Focus from his first two weeks — making him the league's No. 4 guard rated by the service. But more than that, it's easy to see how Blythe has excelled just from game tape. For example, take running back Todd Gurley's second touchdown against the Cardinals, when Blythe completely buried a defensive lineman in the A-gap to open up a massive hole for the one-yard run.
Blythe said he felt comfortable right away as a starter, mainly because of the way run game coordinator/offensive line coach Aaron Kromer cross trains the players on the interior.
"I think that just comes from camp, and cross-training, and coach Kromer, and the confidence he's got in all of us to play any of those three inside positions," Blythe said. "So I think that's what it comes down to. And I was confident about what I was going to go out and do, and just kept playing play after play, and good things happened."
And even though Brown appears likely to be a reserve player at this point in the season, he still feels relieved to have the entire situation that resulted in his suspension over and done with.
"It's definitely a weight off my shoulders," Brown said. "Now I feel like I can really put it behind me and be able to move forward, and do what we're trying to do — that's chase a Super Bowl. And that's my focus every day. But it feels really good to get that behind me and be able to move forward."