The veteran back has now rushed for at least 100 yards in back-to-back games for the first time since Weeks 10 and 11 of the 2014 season, when Anderson was a Bronco, coming off a 29-yard performance against the Rams.
After wrapping up his first-ever 1,000-yard season last year in Denver and bouncing around between the Panthers and Raiders in 2018, Anderson has filled his niche as a member of the Rams — providing two-straight weeks of ample support for head coach Sean McVay's offense, which is without the league's top touchdown scorer, running back Todd Gurley.
"I just try to be myself," Anderson said Sunday. "The cerebral guy I am and use my experience, the bunch of different game experience that I've had in my past and just try to be myself and help out in any way that I can."
"He's done a great job," quarterback Jared Goff said. "C.J. has been a great addition for us. I think it's a testament to the O-line. They've done such a good job up front these last two weeks especially, making the holes for him and he's hit them. He's run, he's done his thing and it's been awesome. But, [the men] up front — I'm sure he'd say the same thing — have been incredible and have opened those holes for him and protected well for me."
Anderson agreed with Goff, crediting veteran offensive linemen John Sullivan, Andrew Whitworth, and Rodger Saffold, in addition to Goff, Gurley, and his coaches after stacking strong late-season rushing performances.
Anderson's totalled 299 yards on the ground and 6.9 yards per carry with two touchdowns in two games behind the veteran-heavy offensive line in Los Angeles. Though the back was picked up just ahead of L.A.'s Week 16 game against the Cardinals, he's worked closely with coaches and teammates to play catch up, helped the Rams earn a first-round bye in two must-win situations, and is ready for January football.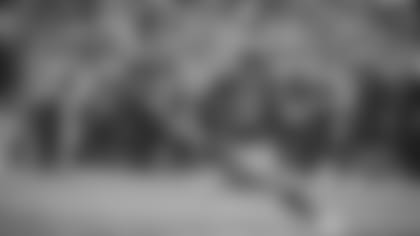 "Yeah, we're ready to go," Anderson said. "It will be good for a bye week for a bunch of these guys. Be good to get away from the game a little bit, get to watch who we're going to play. Then when we come back, whoever our opponent is here, take care of home and we'll see where we go from there."
Anderson will get his third shot at the Lombardi Trophy, starting Saturday, Jan. 12 at 5:15 p.m., when the Rams take on the highest remaining seed in the divisional round at the L.A. Memorial Coliseum. Anderson's played in the big game twice in his career and won Super Bowl 50 in Denver.
"Ready to go," Anderson reiterated. "Feels good, it's been two years since I've been back in the playoffs now after missing it for two years. Those things feel good, I'm just on the other side. It's going to be physical. You've got to be detailed can't turn the ball over, got to sustain drives. To see who we play here in two weeks, it'll be fun."