Each weekday, theRams.com will be taking a look around the internet for the top Rams headlines of the day. Here's a look at what's out there for Wednesday, May 1 about your Los Angeles Rams.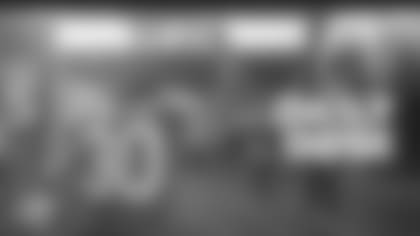 The Rams 2019 Draft Class earned an A- as an overall draft grade from NFL.com's Gennaro Filice. The analyst says defensive tackle Greg Gaines should fit in nicely alongside defensive tackle Aaron Donald and cited cornerback David Long's strong coverage as another reason for the positive draft report card.
Here's what Filici had to say about third-round draft pick running back Darrell Henderson — the division's "biggest sleeper pick":
"Insurance policy or not, Henderson does project as a perfect fit in McVay's outside-zone running game. This one-cut back is an absolute home run hitter. In 2018, he averaged a whopping 8.9 yards per carry -- for the second consecutive season, by the way -- while piling up 1,909 rushing yards and 22 touchdowns. According to Pro Football Focus, Henderson averaged 6.2 yards per carry after contact(!!), nearly a yard more than any other player in college football averaged last season. Henderson's film is fun to watch, and McVay will have fun deploying him as a change-of-pace terror (or more?)."
Bleacher Report's Maurice Moton has his win-loss predictions for each NFL team post-draft. For the Rams, Moton sees a second defense of the NFC West despite formidable challengers in the Seahawks and draft-happy Cardinals, but a tough schedule outside of the West might be reflected by a lower win total in 2019.
"Typically, Seattle plays Los Angeles close, but McVay's squad is still the best team in the NFC West. On the flip side, we have to see how Gurley performs with his ailing knee. The Rams have tough opponents outside of their division, with the Pittsburgh Steelers, Saints, Cowboys and Bears on the schedule."