Each weekday, theRams.com will be taking a look around the internet for the top Rams headlines of the day. Here's a look at what's out there for Monday, July 15 about your Los Angeles Rams.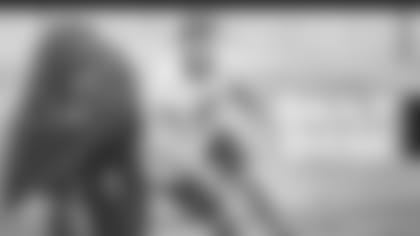 As the Rams get set to report to training camp next week, Bleacher Report has named rookie defensive lineman Greg Gaines Los Angeles' "biggest sleeper."
BR's Maurice Moton defined a sleeper as a player "whose talent has been slept on to this point who could catch the NFL landscape off guard in 2019."
So when it comes to L.A., why Gaines?
"Gaines could carve out a starting role alongside Donald and Michael Brockers on the interior," Moton writes. "He's not going to rack up the impact statistics—sacks and tackles—at a high volume, but the former Husky should provide a boost to the run defense and clear pass-rush lanes for Donald."
Selected at No. 134 overall in the fourth round, Gaines racked up 9.5 sacks and 21.5 tackles for loss at Washington. He'll be competing with Sebastian Joseph-Day for that starting nose tackle spot.
NFL.com's Adam Maya took a look around the NFC West to preview each team as training camps get started at the end of the month. Maya put out three notes for all four teams: Most important position battle, newcomer/player returning from injury to watch, and looming camp question.
Interestingly, Maya called safety Los Angeles' biggest position battle headed into camp — specifically between veteran Eric Weddle and rookie Taylor Rapp.
Via Maya, "Weddle and Rapp are different athletes yet have comparable player profiles in that they're instinctive, they take good angles and cover a lot of ground. They can also play either safety position. Weddle will almost certainly be the Day 1 starter, but Rapp could cut into the former All-Pro's workload depending on how well he picks up Wade Phillips' scheme."
Based on the offseason program, however, it seems more likely that Rapp could be worked into certain packages, which means he'd be on the field at the same time as Weddle.
Maya also names linebacker Clay Matthews newcomer/player returning from injury to watch, and says, "How big of a load can Todd Gurley carry?" Is the looming camp question.
JAMES JONES PREDICTED WHAT?
NFL Network's James Jones had a fairly pessimistic outlook for Los Angeles' upcoming season recently NFL Total Access. Fortunately, Rams radio color commentator Maurice Jones-Drew was there to help correct the record.
Check out the embedded video below.