With OLB Dante Fowler Jr. back for another year with the Rams., here's a look at his first season in L.A. by the numbers.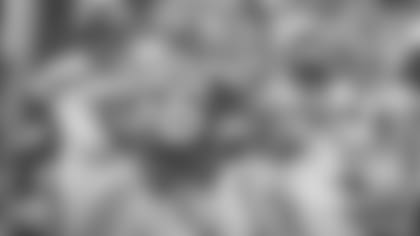 3
Jacksonville took Fowler No. 3 overall in the 2015 NFL Draft, but the Florida standout did not play a snap of his rookie season after suffering a torn ACL in rookie mini camp.
Fowler didn't start a game in Jacksonville in 2017 and didn't see much of the field Weeks 1-8 of last season — recording 2.0 sacks and one forced fumble as a Jaguar — but general manager Les Snead and the Rams saw a solution in the former first rounder.
Los Angeles sent Jacksonville a third and fifth-round pick for Fowler in a trade-deadline deal on Oct. 30, giving the Rams their final defensive piece heading into Week 9 against the Saints.
9
After his Week 9 debut in New Orleans and Week 10's clutch performance in the Coliseum against the Seahawks, Fowler went on to start in the final nine games of the Rams' regular season and postseason, though Super Bowl LIII in Atlanta.
Week 11 against the Chiefs was the edge rusher's first start since Week 1 of the 2016 season. He finished with three tackles.
-5
Fowler logged one of his top performances Week 13 in Detroit's NFC West-clinching victory over the Lions, recording a sack, and five total tackles — three for a loss.
Up 13-3 with the Lions knocking in the third quarter, Fowler did his part to push quarterback Matthew Stafford's offense backward with a five-yard tackle for loss — halting running back LaGarrette Blount in the backfield.
The stop helped hold the Lions to field goal as the game grew late, and perhaps solidified Fowler's role as the club's lead speedy option off the edge.
1
Fowler finished his second conference championship game in two seasons with two quarterback hits and 0.5 sacks against the Saints, but he helped send the Rams to Super Bowl LIII with one quarterback hit in overtime.
Future Hall of Fame quarterback Drew Brees stepped up to heave a pass downfield to wide receiver Michael Thomas, but a lunging Fowler was there to disrupt the throwing motion, forcing a fluttering ball into the air and into the arms of safety John Johnson.
The hit put the ball back in the hands of the Rams and then to the foot of kicker Greg Zuerlein, who drilled a 57-yard field goal for the win.
Here's a look at Fowler's top plays from 2018: