Before the start of the 2018 season, one of the biggest questions surrounding the team was how the outside linebackers would perform after the club let go of veterans Robert Quinn and Connor Barwin.
The club had Morgan Fox penciled in at one of the spots, but he suffered a torn ACL during the offseason program and was unable to see the field. Then L.A. tried Dominique Easley there, but he re-injured his knee after coming back from an ACL tear.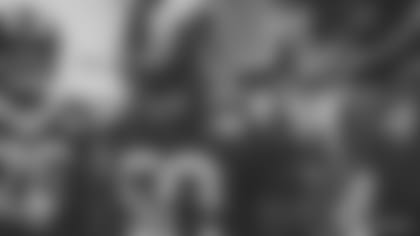 Matt Longacre first settled in there before the team traded for Dante Fowler. But on the other side of the front seven was a consistent Samson Ebukam.
The 2017 fourth-round pick out of Eastern Washington played mostly on special teams as a rookie. But he was a significant part of the team's success in 2018, recording 3.0 sacks, six tackles for loss, three forced fumbles, two fumble recoveries, and an interception for his second season.
His most unforgettable performance came in Week 11, where he had a pair of defensive touchdowns in Los Angeles' 54-51 victory over Kansas City. He also secured a critical quarterback hit in the fourth quarter that led to cornerback Marcus Peters' late-game interception.
But overall, Ebukam summed up his 2018 season fairly simply:
"Getting more experienced, won more games. Unfortunately we couldn't win the last one," he told therams.com this week. "But we'll be back."
And really, Ebukam said making it to the Super Bowl in and of itself is a notable accomplishment — which is absolutely true.
"[N]ot many people thought we were going to go to the Super Bowl anyway after the second loss that we took," Ebukam said. "And, yeah, we kind of just kept grinding, kept doing what we'd been doing all season, got to the Super Bowl. So that in itself is a blessing, so can't be mad at that."
Ebukam said there were plenty of factors that came through in Los Angeles' 2018 success.
"Swagger, confidence, and being able to trust everybody from the regular staff, to the coaching staff, to the players, and to the people all around — everybody works well together just to make sure we're successful on the field," Ebukam said.
The 23-year-old outside linebacker wasn't the only one to say it following the end of the 2018 season, but that connectedness is a reason why those in the Rams' building believe the club will be back in position to compete for a world title in the near future.
"Biggest thing that I can take away from it is that we're going to get better. You know? Nobody's satisfied with where we ended up," Ebukam said. "So yeah, we're just going to have a little chip on our shoulders just to get better next year."