Heading into year three, safety John Johnson's role in the Los Angeles defense lies somewhere between his position mates rookie safety Taylor Rapp and veteran counterpart Eric Weddle — both new members of the Rams who Johnson believes can make a difference heading into 2019.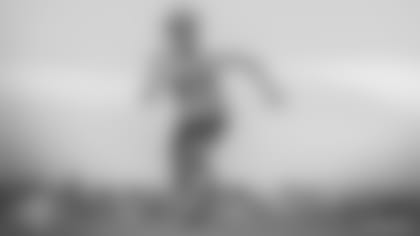 Following OTAs Day 8, Johnson did his best to pinpoint where his role lies, after leading the team with four interceptions a season ago.
"I'm the young guy, I come out here and practice every day — the days that [veteran teammates] can't. I play a lot of football, I bring that presence — I guess veteran presence because I'm kind of comfortable now. I'm just being that spark for the older guys," Johnson said.
A youthful spark alongside seniors like Weddle, linebacker Clay Matthews, and cornerback Aqib Talib, but far from his days spent catching up to the professional pace of football as a rookie, Johnson mentioned growing as a leader as one personal goal as his third OTAs as a Ram wraps up.
Sure to send no disrespect to the 2018 Rams defense that wound up in Super Bowl LIII, Johnson says the chance to take the field alongside Weddle will result in a step forward for coordinator Wade Phillips' group.
"He puts everyone at ease and it's funny because I used to say that's what I try to do," Johnson said of Weddle on Tuesday. "So it's kind of like two guys are back there working together to just make everybody comfortable, everyone play faster, and work together even better."
And that's everyone including second and third-rounder rookies Rapp and cornerback David Long, who have been thrown into the fire since landing in L.A. a few weeks back. Johnson's days as a rookie in the Los Angeles defense are not so distant, despite the Boston College product's spike in production and top tackling ability put on display in year two.
He gave a progress report regarding the youngsters before heading into the locker room in Thousand Oaks, Calif.
"They are sponges. They are taking it all in and not many mistakes — it's kind of like they are comfortable and they are getting there," Johnson said. "It's one thing to know what you are doing, but it's different to go out there and execute because the game is moving fast."