With how fast the NFL moves, it feels like an eternity ago. But there was a time in the recent past that Sam Bradford played quarterback for the Rams. 
Back in 2010, the franchise drafted Bradford No. 1 overall out of Oklahoma — one selection before now-Ram Ndamukong Suh. Bradford compiled a 18-30-1 record as a starter with the franchise, but his tenure was certainly marred by injury. 
In 2013, Bradford suffered an ACL tear against the Panthers in the Rams' seventh game of the season. Then after working his way back, Bradford suffered another ACL tear during the team's third preseason matchup against Cleveland in 2014.
That would be the last snap Bradford would take in a Rams uniform, as the club traded him to Philadelphia in March of 2015. 
There are few players left in the organization who lined up with Bradford, which is part of why he said this week that there isn't much emotion for him in terms of playing the franchise for the first time. 
It's true — the franchise isn't even in the same city where Bradford played, having relocated back to L.A. in 2016. And aside from Los Angeles' special teams group of kicker Greg Zuerlein, punter Johnny Hekker, and long snapper Jake McQuaide, only offensive lineman Rodger Saffold and defensive lineman Michael Brockers played a regular-season game with Bradford.
In fact, Saffold came in the league with Bradford back in 2010 as the No. 33 overall pick. Because of that, Saffold agreed that it's going to be a bit weird to see him on the opposite sideline.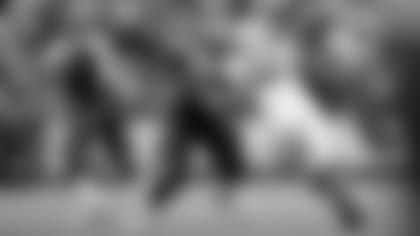 "It happens, but I think this is maybe only the second meeting that I've had where Bradford was on the other team — whether he was injured or just with a different team," Saffold said, referring to the Bradford being on the Vikings last season when Los Angeles visited Minnesota. "But I came here with him, so it is kind of crazy." 
Drafted in 2012, Brockers played with Bradford for 23 regular-season games. But he has plenty of memories of Bradford from the locker room. 
"That's my guy. We used to play card games, be in here playing Tonk and stuff — he owes me some money, so maybe I'll hit him up," Brockers said with a laugh. "But for the most part we're just going to focus on the game plan and execute.
"Hopefully it just makes the game fun, you know?" Brockers added. "Maybe I can get back there and talk a little crap — get in his head a little bit. But for the most part, it's going to be fun."
While quarterback Jared Goff and Bradford are linked on paper by their draft status as two of the franchise's No. 1 overall picks, Goff said this week that he and Bradford have never met. But the Cal product has long admired Bradford from afar.
"He's a great player, I think he's tremendous. I think he does a great job," Goff said. "I have followed his career just through being a fan and being a fellow quarterback, and I think he's a great player. The guy that our defense is definitely getting ready for and really preparing for as good as he can be." 
Defensive tackle Aaron Donald was only a rookie when Bradford suffered his second ACL tear in that preseason matchup with Cleveland, but he knows how effective the quarterback can be. 
"He's a good quarterback. If we don't get to him and he's back there comfortable, then it'll be a long day for us," Donald said. "Our job up front is to get him on the ground and get some hits on him and try to make him uncomfortable back there."