On Halloween, outside linebacker Dante Fowler Jr. sat at his brand new locker and said he wanted to help the Rams achieve their goals.
"I want to show guys that I'm not just an elite pass rusher, that I'm a full-down player," Fowler said after his first practice in L.A. "First down, second down — that I'm very smart and help my defense achieve their goals and help this team achieve where they want to go."
That was in preparation for Week 9 against the Saints, when the Rams were 8-0 and in need of an edge rusher. Over the next eight games — starting in six — Fowler gave his newest club 2.0 sacks, five quarterback hits, four tackles for loss, and a critical forced fumble late in Week 10's victory over the Seahawks.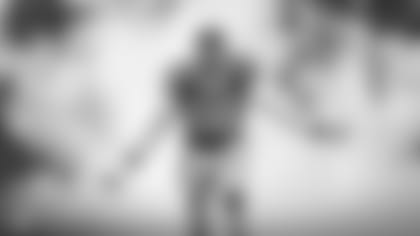 Fowler didn't start the season 8-0 with Rams, but he did beat the Chiefs on Monday Night Football, complete a sweep the NFC West, and clinch the No. 2 seed and first-round bye with horns on his helmet. The once-No. 3 overall draft pick and former rotational player in Jacksonville is preparing for his first playoff game as a Ram.
"It'll be pretty cool, I treat it like any other football game — definitely with a playoff mentality," Fowler said on his Sunday off, peeking up at the Ravens-Chargers Wild Card game on a locker room television. "Having that taste in my mouth last year, being able to get all the way to the last game and not make it — definitely have some experience and know what it takes to win a playoff game. I just want to get back to where I was and make it to the Super Bowl with these guys."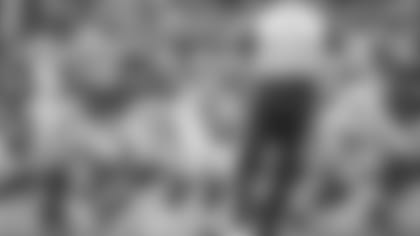 Fowler got close last season. The Jaguars entered the fourth quarter of the AFC Championship game up 20-10 against the defending champion Patriots. Fowler's former team surrendered a pair of crunch-time touchdowns to quarterback Tom Brady and the Pats, and missed out on one of sports' greatest spectacles.
The Jags came up short, but it wasn't for the best effort of Fowler, who didn't start a single game during Jacksonville's best season in years. The pass rusher sacked Brady twice in the game and added a third quarterback hit on arguably the greatest player to ever throw a football. Fowler had two playoff tackles and a pass defensed entering the semifinal game.
"Definitely the intensity, the speed, just know it's do or die, win or go home and nobody wants to go home, so everyone is going to play to the best of their ability," Fowler said, filing through the differences between the NFL's regular season and postseason.
"So you have to be ready, you've got to be prepared and know what you got yourself into."
L.A.'s hard-earned bye week came and went and the Rams know what they are getting into come Saturday at 5:15 p.m. PST — or at least who it'll be against — especially Fowler, the only Ram to have already faced the 11-6 Cowboys in 2018.
"I played against them, so I just know they are a physical team, they run the ball a lot, the've got a very great running back, very great offensive linemen. [WR] Amari Cooper — with that addition, I know how great of player he is. They've got a great defense, so it'll be a pretty good matchup," Fowler said.
"I just can't wait to play Saturday, get back into the playoff feel, the playoff atmosphere, can't wait to see how it feels around here."