The third start of Jared Goff's career came in New England.
This was back in 2016, and, well, a lot of things were different — we don't have to detail them all. But on one sideline stood Goff, fresh-faced as the No. 1 overall pick out of Cal, doing his best to find his way in the NFL. On the opposite sideline — pencil planted behind ear — was then-Patriots defensive coordinator, Matt Patricia.
No, things didn't go the Rams way that day. But Patricia is now the Lions head coach, and will be scheming against Goff for the second time. And like everyone else, Patricia has noticed significant growth in the 24-year-old quarterback.
"I had a chance to see him very early on in his career. Different situation obviously for them and certainly for myself. I think he's just come such a long way right now," Patricia said earlier this week, crediting L.A. head coach Sean McVay for his work with the QB. "Definitely you can see his maturation through this process and him being a guy that's really settling down, where I think the game has slowed down for him."
Rams run game coordinator/offensive line coach Aaron Kromer also schemed against Patricia a couple times a year when he was with the Bills from 2015-2016. And on film, he's noticed a ton of similarities in the Lions' scheme.
"Well, without over-exaggerating how exactly the same it is, it's exactly the same," Kromer said with a laugh. "When you go back to, even back when I coached with New Orleans in 2009 and we played them on Monday night — it's the same style of defense. Obviously, they have to tweak it to the personnel they have, but they're going to make sure they set the edge. It goes all the way back to Bill Parcells and the style of defense."
So, essentially, it's the same. And Goff said he's noticed some carryover from the last time he deeply studied Patricia's scheme, but it's certainly being run by different players.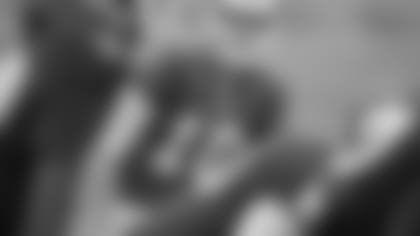 One of whom is vaunted pass rusher Ezekiel 'Ziggy' Ansah, who has missed significant time with a shoulder injury this season. But in five games played, Ansah still has 4.0 sacks. And he's healthy for Week 13.
"The pass rush is really good," Goff said. "Anytime 'Ziggy' Ansah is on the field you have to be aware of him and he's a great player."
If there's one element of his game Goff is looking to improve this week, it's ball security. In the Week 11 matchup with the Chiefs, Goff was strip-sacked twice and L.A. lost both fumbles. The Rams' offense hasn't turned the ball over much this season, but Goff has fumbled six times in 2018.
"I wish I would've taken care of the ball a little bit better," Goff said, reflecting on the victory over Kansas City. "Those two sack-fumbles were not what you want to do, and especially one leading to a touchdown for the defense. You never want to do that and put points up for them in any way. Just continuing to take care of the ball in the pocket."
If nothing else, Goff should be refreshed and well rested heading into Sunday's contest coming off the bye week. And on Wednesday, Goff noted the Rams were trying some new things on offense — making it clear that McVay was still putting in work on his offensive scheme during the week off.
"Yeah, to an extent," Goff said. "We always change stuff up, pretty much weekly and put in new wrinkles and today was no different."
We'll soon see if the new can come through with a victory in the Motor City.