The Rams have reached the mountain top.
Thanks to kicker Greg Zuerlein's 57-yard game-winning field goal in overtime, the Rams are NFC Champs and headed to Super Bowl LIII.
Just minutes after the ball sailed end over end through the uprights, FOX's Terry Bradshaw caught up with Rams owner Stan Kroenke, who said, "We got a great group here led by [HC] Sean [McVay], [GM] Les [Snead], all the guys…"
McVay, quarterback Jared Goff and a few other Rams joined their owner on FOX's broadcast as the victors received the George Halas Trophy.
"It was unbelievable," McVay said from the Superdome's visitors locker room. "Our team demonstrated great mental toughness. It was a tough start, but I thought the way that he played, handled the noise, it was outstanding."
"That place was loud and they were loud early and we had some stuff that we had to deal with early, but we fought through, we fought through, this team is special and I'm happy to be a part of it," Goff said, following up his head coach.
The Rams overcame the noise through a patient rushing attack from running back C.J. Anderson, a couple huge defensive stops — including an overtime interception from safety John Johnson — and Zuerlein's pair of field goals.
The smiling faces crowded the small stage — defensive tackle Ndamukong Suh admitted to shedding tears after the game-winning kick was deemed GOOD.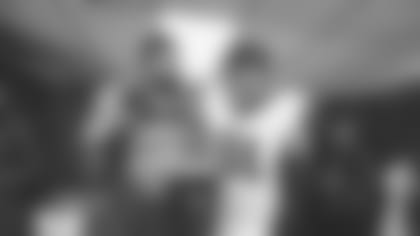 "I'm proud of our defense and we got one more to take care of," Suh told Bradshaw, after logging four tackles, 1.5 sacks, and two quarterback hits in the game.
The Rams are the first road team in the last five seasons to win a conference championship and await the AFC's Champion, either the Chiefs and Patriots.