Veteran left tackle Andrew Whitworth wasn't the only tenured offensive lineman to pick up his first-career playoff win against the Cowboys in the Divisional round. Whitworth's right hand man — very literally — left guard Rodger Saffold is also entering uncharted playoff territory.
Saffold, who is the longest-tenured Ram, had far fewer shots at earning a first postseason victory as Whitworth, but the win is equally meaningful in an entirely different fashion for the left guard.
"I always kept saying that I wanted to finish where I started over here," Saffold said on Sunday, before teasing rookie offensive lineman Jamil Demby about reaching the postseason as a youngster.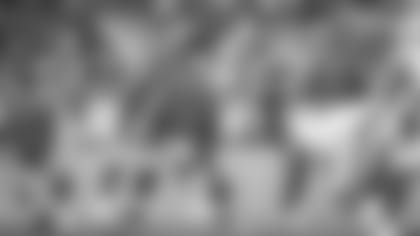 Not quite finished, Saffold will take the field in the NFC Championship game on Sunday in New Orleans as a member of one of the hottest offensive lines left standing. On Tuesday, NFL Network's Steve Wyche pointed out just how strong the line has been over the last three weeks, reporting that since Week 16 against the Cardinals, the Rams have rushed for 697 yards and allowed just two sacks.
Saffold continued, revisiting a time when his run with the Rams appeared to be coming to an end back in 2014, when his rookie contract was up and he seemed bound to be a Raider.
"There was some back and forth and with the whole thing with Oakland and coming back here — things happen for a reason and I'm glad that I'm able to do it here. This is the team that gave me the chance back in 2010 and here we are."
Oakland failed Saffold's physical in the 2014 offseason, and after four seasons in St. Louis with the Rams, No. 76 was headed back for a fifth. Five seasons with horns on his helmet turned into six, six became seven along with L.A., and in year eight came head coach Sean McVay and perhaps the greatest change for the 6-foot-5, 323-pound former Indiana Hoosier — winning.
The 33rd overall pick in the 2010 NFL Draft did not win more than seven games for seven-consecutive seasons as a professional football player. At Indiana, Saffold earned second team All-Big 10 honors twice, but finished with just one winning season in four years in one of college football's top conferences.
Saffold not only went seven seasons without a winning record in the NFL, but also without a playoff appearance. After earning his debut 'W' and leveling his playoff record on Saturday night, Saffold said the win and confidence it's brought has been a long time coming.
"I think it gives us a lot of confidence and of course I'm mad I had to wait a decade to do it," Saffold said, only half joking. "It's definitely exciting, the excitement is still there, it's still surreal, but I think that we are very blessed to be where we are right now."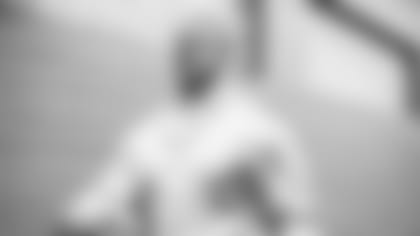 As Wyche reported, the Rams are hitting full stride heading into the conference championship game with guys like Whitworth and Saffold two playoff wins from the greatest win of all. Now preparing for the Saints No. 2 rushing defense and the threat of defensive end Cameron Jordan, it's pretty clear Saffold's veteran-heavy offensive line may have to push its way to Atlanta — it's just hard to tell it's for the very first time.