The absence of defensive lineman Aaron Donald has been a consistent topic throughout the offseason program and training camp — just as it was in 2017. Though general manager Les Snead said earlier this month that the club and Donald's representation are in the "same zip code" when it comes to a potential contract extension, that deal is not yet done. 
Reports have continued to surface from various media outlets that both sides are getting closer. But speaking to reporters on Sunday, head coach Sean McVay said the situation is more or less "where it's been all along, as far as just trying to get it done, trying to get this thing figured out. But no updates from us." 
"We're proactively working to try to get this thing done," McVay later added.
In 2017, Donald reported to the Rams late in the week before the season-opening game against the Colts. Donald did not play in that contest, but did suit up for the Week 2 matchup against Washington. 
For this year, McVay said that in a perfect world, he'd like to have Donald report by the end of the week in order to be best prepared to play versus the Raiders Week 1. However, McVay emphasized that he's not setting a hard deadline. 
"I don't think would be fair," McVay said, noting he would discuss that situation with head strength and conditioning coach Ted Rath and head trainer Reggie Scott. "But I think in an ideal situation, you get a week and a half, two weeks of preparation." 
"[H]e's kind of been through a situation like this if he is able to report," McVay continued. "But I think for us to be able to fully acclimate him and get him into a spot that would make us feel good about him feeling good some of the things schematically and then also getting the work necessary just from a 'getting your body acclimated to truly playing football,' I'd say you'd like to have him by the end of this week."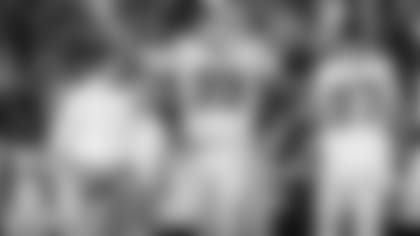 When asked his level of confidence that Donald will report this week, McVay replied, "It's hard to say." But doesn't diminish the level of urgency that the organization has placed on keeping Donald as a Ram for the long term. 
Still, Los Angeles will have to get ready to play Oakland on Sept. 10 whether or not Donald reports. 
"We'd like to see Aaron here," McVay said. "But if not, if we're not able to, we sure have a lot of confidence in the guys that are here. And [we'll] continue to work with them and know that they'll step up if they have to in his absence."