With no football to be played for the Rams on Wild Card weekend, there was football to be watched. Head coach Sean McVay watched the Bears and Eagles come down to the wire from his office in Thousand Oaks, Calif. after his team's "Monday" walk-thru. Bears kicker Cody Parkey's 43-yard field goal attempt bounced off the crossbar, was ruled no-good, and McVay had his next opponent.
"Well, we knew that, whichever one of the three that we were going to play is going to be a great a game and it's going to be a really tough opponent," McVay said on Sunday evening conference call. "Obviously, Dallas is that."
The Cowboys beat the Seahawks in Dallas, the Eagles beat the Bears in Chicago, and the Rams have the highest-remaining seed Cowboys coming to town on Saturday.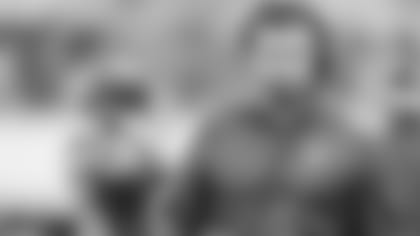 "They've got a lot of team speed," McVay said, providing his near-instant reaction to facing the NFC's No. 4 seed. "They're physical on both fronts. [Cowboys head] coach [Jason] Garrett does an excellent job. These guys have been playing really good football throughout the year. I think they're battle-tested, and it's going to be a really tough challenge for us."
McVay's Rams will go up against the only NFC playoff team that they didn't face in the regular season in Saturday's Divisional game. The second-year head coach said he had no preference whether his second-career playoff game was against a team for the second — or third — time this season. McVay's Rams will take on 11-6 Cowboys, who picked up wins against the Eagles (twice), Saints, and most recently the Seahawks en route to the Divisional round for the third time in five seasons.
Despite going a week without knowing the first postseason challenger, McVay said his staff got a jump on scouting the Cowboys.
"I think, first of all when you look at [RB Ezekiel Elliott] 'Zeke,' I think he's similar to Todd [Gurley] — one of the most complete backs in the league, extremely productive," McVay said. "I think he's got the ability to go through you or go around you with speed. He's gotten a lot more involved in the pass game this year."
Ranked No. 23 allowing an average of 122 yards rushing per game, the Rams are readying for one of the league's top backs. Elliott led the league in rushing attempts, total rushing yards (1434), and rushing yards per game (95.6) in 2018. On Saturday, Elliott took 26 carries for 137 yards with a touchdown against the Seahawks in his second-career playoff game. While Elliott has moved the ball well for the Cowboys in his third professional season, he hasn't gotten into the end zone like his divisional round counterpart. Zeke has six touchdowns rushing and three receiving in 2018.
McVay also spoke at length about what Cowboys quarterback Dak Prescott and the addition of wide receiver Amari Cooper has meant to the club this season. Prescott's found Cooper for a touchdown six times since Dallas acquired the veteran midseason. Cooper had seven receptions for 106 yards receiving in Saturday's win.
"So, I think you're talking about two elite competitors that are at their best in those crunch-time moments," McVay said of the stars. "Their production speaks for itself and you could see their teammates believe in them."
The Dallas defense ranks No. 7 in yards allowed per game in 2018, letting up just 329 per contest. In his typical fashion, McVay listed a number of Dallas' threats on defense, including linebackers Leighton Vander Esch and Jaylon Smith, safety Xavier Woods, and defensive end Demarcus Lawrence with his 10.5 sacks.
"They're a great defense and extremely well-coached, really sound," McVay said. "Similar to kind of what we said about Chicago, you earn every single yard against great defenses like this and that's exactly what this defense presents."
Speaking of Chicago, several Rams had said they wouldn't have minded a second shot at the NFC North champs, should they have made it out of the Wild Card weekend's slate of games. But finding a way to beat Dallas and its defense will have to do in the NFC West Champions' first test standing on the path to the Lombardi Trophy. With Saturday's 5:15 p.m. kick less than a week away, McVay said that as soon as Eagles-Bears went final, his guys were were ready for their playoff moment.
"We know it's going to be a great challenge," McVay said. "But yeah, there was a bunch of guys that texted, 'Let's go. Let's get this thing rolling.' They're excited about the opportunity to compete."