Coach Romero's car broke down during her 75-mile drive home from the Rams practice facility. It was the final day of training camp and over 100 degrees outside. As she got off the phone with the towing company and her father, who had to pick her up, in her inbox was the offer letter from the Rams to be the full-time seasonal intern for the Strength and Conditioning group. She told me after we spoke, she drove a 2002 Acura and is excited to get a new car. "Something for the family and something good on gas."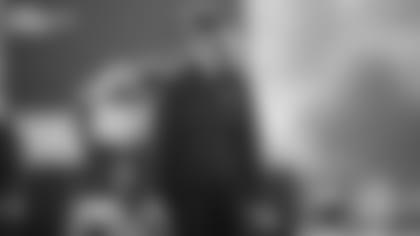 How has this process been for you?
Last year was a little crazy. I was four weeks postpartum. Having my baby boy last year was crazy. I was friggin' pumping in the meeting rooms every two hours, so I wasn't as present because I was constantly having to pump. I'm actually still breastfeeding, so it's been crazy since my son's 14 months now.
I actually worked at UC Irvine. (UC Irvine is where the Rams held Training Camp the last four years.) I was only there about five, six months. And my boss at the time, was like, 'The Head Strength Coach for the LA Rams is actually coming out to look at the weight room. Just a heads up.' I was like, okay, cool. I already knew who he was. Ted Rath (Former Rams Director of Strength Training & Performance) used to work in Detroit. I'm a big Notre Dame Football fan and he coached some Notre Dame football players at Detroit.
I introduced myself immediately. 'I'm Chelsea. I work here, but I have nothing going on in the summer. It's really slow for me, and I would love to do anything to help you guys. I will work for free.' We started talking football, Notre Dame football like 'Oh, you trained Golden Tate, TJ Jones.' and he was like, okay, how about you send me your resume? And then I think he actually called me that night or the next day. He was like, we'd love to have you for camp. I was just kind of an extra set of hands at first. I was the training camp intern, the summer of 2017. And so, that's kind of how it started. I just worked my butt off that first year.
My dad always says you get a job three ways. I love this acronym: PRO. Performance, relationships and opportunity. He said to me, Chelsea, you have the performance, you have the relationships you've built with the staff, now you just wait on the opportunity.
What do you love about strength and conditioning?
The competitiveness of it. Also mainly just developing players. I've worked with all levels from high school, junior college, Division 1 and pro. To work with the pro athletes, it's just a whole other level. Being inspirational and motivating people every single day. Surrounding yourself with amazing people. As you know, the organization just makes you better as a person. Even the guys, they're all high-character guys. They're professionals, they want to do a job and support their families and they're here to work and they trust whoever's in the weight room that they are going to make them better. It's a testament to the organization and our leaders. So yeah, I just love being around the great people.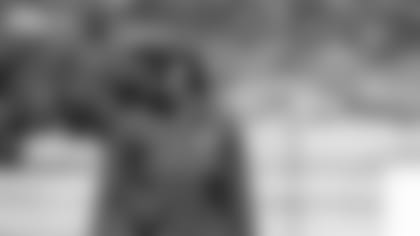 Words of wisdom to share with Rams fans reading this?
I want everyone to know that you need to always dream big, because I think we sometimes don't dream big enough. People always ask me, "What is your dream?" and I'm like, I don't know. But I think along the way, your path, you start developing that dream through your experiences and the people you meet. I think one thing they need to know is dream big, work hard, work your butt off. And whatever you do, whatever career field, whatever it is, stay focused, stay focused on your path and make sure that you're constantly checking yourself. And then also just surround yourself with great people. Because if it wasn't for the people in my life, whether it's my family, my friends, or my mentors or people I've worked with, I wouldn't be at where I am today.