As this week has progressed, the stakes have grown for the Rams and the Saints. We knew right away that control of the NFC one-seed would be on the line. However, let's start our morning musings with two impressive bits of research that illustrate just how unique this showdown is in the context of league history…
1)   New Orleans is second in the NFL in scoring average at 33.4 points per game while the Rams are third at 33.0. According to the Elias Sports Bureau, this Week 9 affair is the latest matchup in NFL history between teams averaging at least 33 PPG. Granted, scoring has spiked league-wide and football is a much more offensive sport than when Cooper Kupp's grandfather was playing for the Saints. Nonetheless, consider that if the Rams were to put up 66-or-more points combined against New Orleans and Seattle, they could again reset this historical record in Week 11 in Mexico City against Kansas City, currently leading the NFL in scoring at 36.3 PPG. o
2)   The Rams and Saints have a combined record of 14-1. According to ESPN Stats & Info, that represents the fourth-most combined wins with 1-or-fewer losses in any matchup since the merger (1970). What's more? In each case the winner played in that season's Super Bowl.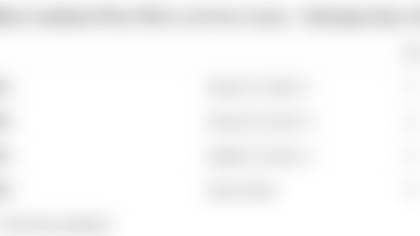 3)   Los Angeles traded for edge rusher Dante Fowler Jr.  on Tuesday, and he'll make his Rams debut in Week 9. In acquiring the former No. 3 overall selection from the 2015 Draft, they addressed the team's biggest shortcoming. According to NFL Next Gen Stats, the Rams lead the NFL in pressure rate among interior defenders – thank you, Aaron Donald – but rank 29th in pressure rate from edge defenders. L.A. also seems to have picked a good time to acquire Fowler's services, as he's earning the highest grade of his career from PFF in 2018, and immediately becomes the Rams top edge defender.
4)   Speaking of the reigning NFL Defensive Player of the Year (and NFC Player of the Month for October), Donald deserves his own category of this preview. Here are just a few notes as he gets set for the Saints:
Per PFF, he's already generated 54 pressures. For context, through eight weeks last season, he'd generated 40, which still led the NFL!
Donald has at least one sack in five straight games for the second time in his career (2014, 2018). He's never had a six-game streak.
As you know, Donald's NFL-leading 10 sacks have all come in the last five games. Per Elias, the only other active players with at least 10 sacks in a five-game span are J.J. Watt (2014, HOU) and Khalil Mack (2015, OAK).
5)   The strength-versus-strength matchup of Week 9 pits Todd Gurley and the top rushing attack in the NFL against the Saints run defense, which has allowed the fewest yards per game (74.1) and yards per carry (3.2) in the league. More on Gurley later.
6)   The strength-versus-weakness matchup of Week 9 pits Alvin Kamara, Mark Ingram, and the Saints ground game against the Rams defense, which is ranked 25th against the run according to Football Outsiders DVOA. And it's not just true handoffs when you're coping with New Orleans. Drew Brees is masterful orchestrating screens and the short game. He's the quickest average-time-to-throw in the NFL. The Rams must find a way to get the Saints into known passing situations and longer-developing routes, so they can capitalize on third down and long opportunities.
7)   There are two fantastic individual matchups to watch in the passing game, as big name receivers and corners pair up in the Big Easy.
Michael Thomas (from Woodland Hills and Taft HS) owns 2.72 yards per route run, ranking fourth in the NFL. He figures to see a lot of Marcus Peters, who has to rise to the occasion. The first-year Ram is suffering through the lowest-graded season of his career and has just two passes defended through eight games. Cory Littleton and John Johnson have eight PBUs a piece, to put that in context.
Brandin Cooks faces the franchise that drafted him, for the second time. Last year as a Patriot, he was held to two receptions for 37 yards by Marshon Lattimore and the Saints secondary. Lattimore missed the 2017 contest in Los Angeles with an ankle injury, and opposing quarterbacks have largely avoided him this season. But Sean McVay and Jared Goff don't figure to shy away: The Rams lead the NFL with 40 explosive pass plays (20-plus yards), and 14 of them have been hauled in by Cooks.
8)   However, I think it's Kupp who could go off in the Superdome today. After missing two weeks, if the Rams slot receiver is 100%, he could feast against a secondary that really struggles apart from Lattimore. Don't let P.J. Williams' NFC Defensive Player of the Week honor fool you. He grades outside the top 100 at his position this season, and I'd expect McVay to attack him throughout today's game.
9)   No offense in the NFL has been in the red zone more this season than the Rams. Only a couple defenses have been worse in the red zone than the Saints (rated 30th). Today might be one of those days where threes don't cut it, only touchdowns will do.
10)   Good thing L.A. has Todd Gurley, who can set a new franchise record if he scores a touchdown in his 12th consecutive regular season game today. Here's the list of NFL players who have scored 50 touchdowns before their 25th birthday: Barry Sanders (57), our very own Maurice Jones-Drew (56), Randy Moss (54), Jim Brown (53), Emmitt Smith (53) and Todd Gurley (50). By the way, Gurley won't celebrate his 25th birthday until Training Camp 2019.