Head coach Sean McVay and special teams coordinator John Fassel knew entering Sunday's game that the Rams special teams would be without All-Pro return man Pharoh Cooper.
Cooper suffered an ankle injury Week 1 in Oakland that requires surgery — placing him on the team's injured reserve, meaning Cooper won't be on the field for at least eight weeks.
The Rams hit another bump in their road to 2-0 during warmups on Sunday, when kicker Greg Zuerlein injured his groin.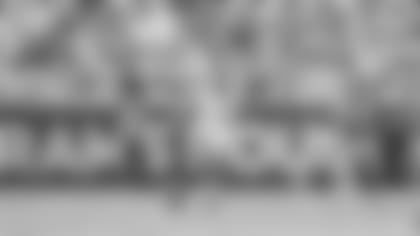 Zuerlein's unforeseen absence along with Cooper's injury thrust both newly signed returner JoJo Natson and punter Johnny Hekker into the special teams spotlight for L.A.'s 2018 home opener.
Earlier this week, Natson was confident in his ability to step up in Cooper's absence despite his size, saying "you can't hit what you can't catch."
Natson, 5-foot-7 and 153 pounds, proved that on Sunday by racking up 133 punt return yards in six fielded punts, good for a 22.2-yard average. 
Natson's longest return of the game came in the second quarter, when he burst past the Cardinals special teams unit for a 60-yard return down the left side of the field to the Cardinals 32-yard line. The long return primed quarterback Jared Goff's offense with optimal field position for their second touchdown-scoring drive just before the halftime break.
After his 2018 debut, Natson broke down his big play.
"It just set up perfectly. My return unit did a great job blocking for me and I just used my speed and got around the corner — should have scored, but this is just the beginning," Natson said.
Sunday wasn't Natson's first big-league experience. Last season, Natson joined the Jets as an undrafted free agent and appeared in seven games. The Rams picked up Natson just ahead of training camp, but then cut him prior to the 53-man roster deadline.
A strong preseason contributed to McVay's confidence in his new return man. In the preseason, Natson returned 14 kicks for 342 yards — averaging 24.4 yards per return.
As strong as Natson's performance was, it didn't necessarily come as a surprise to his teammates.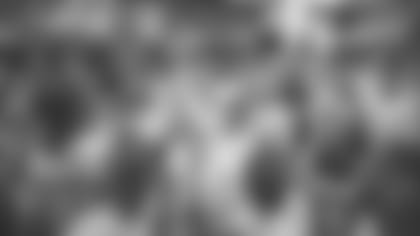 "It says a lot about our scouting department. They have the right guys here," cornerback Aqib Talib said. "JoJo was with us all through camp and we've seen what he can do. I'm surprised no team picked him up. I'm glad nobody did pick him up, so we had a chance to get him. We knew what he could do in the preseason and in training camp, so it wasn't that surprising to us."
Natson is expected to continue in return duties in L.A. for the foreseeable future.
On the other side of the ball, Hekker stepped in — when absolutely needed.
Zuerlein's injury provoked McVay's offense to go for two after each of its first three touchdowns of the day.
Running back Todd Gurley pounded in two of the two point conversions, and Goff connected with running back Malcolm Brown on another. While the Rams perfect two point conversion rate adequately replaced a few of Zuerlein's extra points, Hekker was also provided time to shine.
After the game, McVay credited Fassel for preparing Hekker and taking the unexpected news in-stride.
"[H]e's just like, 'Hey Johnny [Hekker] will be fine. Maybe we'll probably want to be a little bit more aggressive in some of those situations — here's where the cutoff would be with regards to where we should kick it from, where we would go for it.' Real credit to him and [special teams assistant] Matt [Daniels] and our players," McVay said.
Hekker nailed his first ever career field goal on Sunday — and the Rams' only field goal of the day.
It was Hekker's first in-game field goal in a very, very long time.
"That was in Bothell High School in 2007 sometime," Hekker said of his last attempt.
"I felt comfortable," Hekker continued. "I was calm, I have a great group of guys around me that — I know Jake [long snapper Jacob McQuaide] is going to put the snap on the money, [WR] Cooper [Kupp] is going to put it down there, and it's just up to me to be an athlete and just kick it through."
Halfway through the second quarter, Hekker stepped up and drilled a 20-yard field goal to put the Rams up 11-0. He later tacked on a successful extra point in the fourth quarter.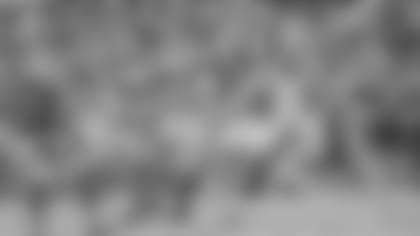 When asked if he practices field goals, Hekker simply said no. When asked if he would be prepared to step in for Zuerlein in the future, Hekker seemed hopeful for his All-Pro kicker's return.
"If needed — let's hope I'm not — but if needed, I'll be ready to go."
The special teams unit seemed to have "weathered the storm" on an otherwise sunny day in Los Angeles. Natson showed promise for what will become his weekly duty this season, while Hekker's time-tested leg covered for his (now fellow) kicker.