With the offseason program complete and Rams Training Camp starting up in late July, it's time to look ahead. As part of the preparation for training camp, theRams.com will be spotlighting a handful of players new to the Rams' roster. Concluding the series is rookie defensive end Desjuan Johnson.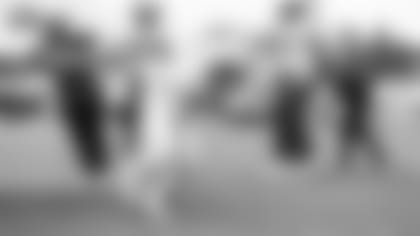 How He Got Here: The Rams used their 14th and final selection in the 2023 NFL Draft on Johnson, taking him 259th overall in the seventh round.
What's Next: Earning a role on the defensive line rotation. While Aaron Donald, Larrell Murchison, Marquise Copeland, Jonah Williams, and Earnest Brown IV all return, the snaps available from the departures of A'Shawn Robinson and Greg Gaines still create opportunities for playing time to be earned.
Bet You Didn't Know: According to Pro Football Focus' Wins Above-Average metric, Johnson was the most valuable interior defensive lineman in the country last year.
Quotable: "It's actually just about really the rookies on the team and us building them and letting them grow. We got a bunch of receptive guys. I love that. A lot of guys really getting what you thought they would be from an evaluation standpoint, from the coach's livelihood and really getting really good information from our scouts and what they were before they got to us and it's really helping us coach these guys now. You just kind of love that, you go with that process. But it's really unique here, particularly with this year with this football team, so it's kind of fun." – Rams defensive coordinator Raheem Morris after the team's May 31 OTA, on his impressions of the defensive rookies so far