As the Rams progress in the second half of the 2018 season, the team's edge rushers may continue to change a bit in the coming weeks.
After Los Angeles acquired outside linebacker Dante Fowler from Jacksonville last week, the team activated rookie outside linebacker Ogbonnia Okoronkwo from the physically unable to perform list to the active roster on Monday.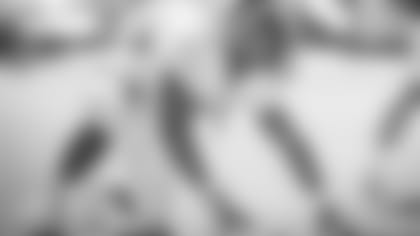 A fifth-round pick out of Oklahoma, Okoronkwo recorded 20.0 career sacks as a Sooner. He's been practicing with the team for the last couple weeks, and could be getting an opportunity to get after the quarterback in the near future.
"With Ogbo, really it was a situation where you've got to make that decision at this point," McVay said, referring to the end of Okoronkwo's 21-day window to be activated from the PUP to the active roster, or be placed on injured reserve. "He's done some things that we felt like were positive, were encouraging, and made us want to make that decision to be able to get him up on the active roster.
"Whether he's actually active on gameday or not is still to be determined," McVay continued. "And, really, it was a result of some of the things he's done, and the intrigue we have based on if he needs to play at some point, that we feel like that versatility provides — coming off the edge — will help us."
As for Fowler, the newly acquired outside linebacker was on the field for 62 percent of Los Angeles' defensive snaps in New Orleans. He picked up a tackle for loss on a first-down play in the third quarter that took the Saints offense off track and helped force a key punt.
"I thought he did a nice job, made some big-time plays in the run," McVay said. "You could feel he affected and influenced some of the pass rush. And that's a great offensive line, and Drew [Brees] does a great job getting it out. But you felt Dante, and I thought he did a nice job.
"He played a handful of snaps — I think it's a credit to him and to Billy Johnson and to Thad to be able to get him up to speed as quickly as he was to be able to play such a vital role on such short notice, both in our base and some of our sub packages that we were playing against them," McVay added, referring to defensive line coach Billy Johnson and defensive quality control coach Thad Bogardus. "So he did a nice job, and we expect him to only continue to improve."
Despite arriving just last week, Fowler played the most he has all year in terms of snaps (44) and percentage (62.0). His previous high came in Week 5, when he was on the field for 29 defensive snaps for the Jaguars against the Chiefs. He played 48.2 percent of defensive snaps (27) against the Jets in Week 4.