A lot has changed since the Rams last faced running back Marshawn Lynch. 
Back on Sept. 13, 2015, Lynch was still a member of the Seahawks — a team coming off a gutting defeat in Super Bowl XLIX. The Rams won that game 34-31 in overtime when defensive linemen Aaron Donald and Michael Brockers combined to tackle Lynch for a one-yard loss on 4th-and-1 from the Rams' 42-yard line. 
Since then, Lynch retired, then came back to football to play for his hometown Raiders. But the Rams will once again take on the running back in a Week 1 matchup, hoping to get the best of him.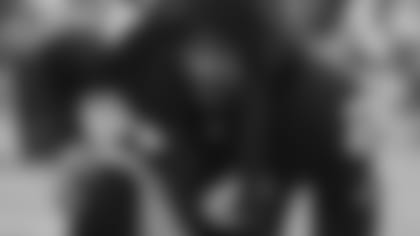 Heading to his 12th pro season — a remarkable number for a running back — Lynch has 10,003 career yards rushing, which ranks No. 4 on the active list. He's a five-time Pro Bowler, and a first-team All-Pro back in 2012. 
One might think he's lost a step, but he had solid numbers as a 31 year old in 2017 for Oakland. He rushed for 891 yards on 207 carries with seven touchdowns in 15 games last year, good for 4.3 yards per carry. 
And it didn't count, but during the preseason, Lynch ripped off a 60-yard run to the left for a touchdown. 
While the Raiders' offensive playbook is largely unknown under head coach Jon Gruden, that run definitely got Los Angeles' attention. 
"He ran the ball in preseason the other day and scored like a 50-yard run — I was like oh my gosh, Marshawn is back," Brockers said this week. "For the most part, he hasn't aged a bit, so we have to bring a hard hat come Monday and be ready for a tough game."
Defensive coordinator Wade Phillips noted the Rams will have to adjust to whatever wrinkles Gruden throws out in the first game. But given the familiarity many of Los Angeles' players have with facing Lynch — linebacker Ramik Wilson, along with corners Marcus Peters and Aqib Talib all played in the AFC West last year — nothing from Lynch should be a surprise. 
"Oh yeah, we know what to expect with that guy," Donald said. "He's definitely a special football player, tough guy to take down — I know that definitely my first two years playing him — so we know what to expect and how to get after him." 
So what's the approach? According to safety John Johnson, it's just to lower your pads and tackle. 
"I think he's just a guy that you got to go at," Johnson said. "You can't be afraid."