Kansas City Chiefs head coach Andy Reid gave his thoughts on ESPN's Week 11 edition of Monday Night Football being moved from Mexico City to Los Angeles.
"We'll be there, we are going to show up," Reid told reporters during his Thursday conference call. "We are playing there, so let's get ready to play against a great football team."
Reid didn't seem too caught up in where Monday's game would be played, saying the schedule switch up just means the matchup with the 9-1 Rams will resemble more of a true road game.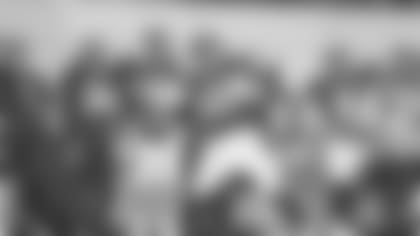 The veteran head coach, however, is thinking about L.A.'s top weapons.
"He's a heck of a player isn't he? Oh god he is good," Reid said of running back Todd Gurley.
While Reid rolls out one of the league's best offenses, averaging 35.3 points per contest in 2018, he will be forced to slow the NFL's top rusher and leader in all-purpose yards in Gurley.
"We have to make sure that you better take care of all the gaps, you better stay disciplined, and you can expect just about anything because the great ones are going to present you with some things that you probably haven't had the chance to see before."
Reid's Chiefs haven't seen a back quite like Gurley in 2018, just as the Rams are yet to go against a high-powered offense like Kansas City's.
As for attacking L.A.'s star-studded, but often-shaky defense, Reid sounded like many of the other offensive minds as they prepare to face the Rams — admiring the power of defensive tackle Aaron Donald.
"I had a chance to coach him in the Pro Bowl and he can play about five or six different positions on your football team, that's how gifted of an athlete he is," Reid said. "Right now he is playing defensive line and doing it as well as anybody in the National Football League and will go down as one of the greats to play that inside position."
Donald will do his best to add another sacked quarterback to his decorated list and bring down second-year signal-caller Patrick Mahomes, who has been sacked just 17 times this season.
Reid spoke specifically about the development of Mahomes, who has proven no stage is too big in his breakout season.
Although Reid admitted to being bad at predicting the future, he did say Mahomes' sophomore season that's worth MVP-consideration was one he saw coming.
"I just think when you get to know him and you've been around him, you feel like he's going to do okay," Reid said. "I was around him for a year before he had the chance to play and so you felt like he'd be able to handle that okay."
The 23-year-old quarterback has been beyond "okay" so far in 2018. Mahomes' 31 touchdowns are the most touchdowns through 10 games in NFL history, as well as a franchise record in Kansas City.
As for how Mahomes has grown week-to-week, Reid said it's all about how his newest franchise QB has handled new experiences as a pro — which will continue on Monday night against the Rams.
"Your first couple years in the league, you're going to see a lot of 'new' and how do you handle that? So far he has done a nice job working things out," Reid explained. "Every week is a new week, and [DC] Wade [Phillips] will have some stuff for him and he's got to sort that out."