As part of our offseason lookback, theRams.com will be taking a look at notable grades and performances for Rams players from scouting service Pro Football Focus (PFF).
To close out the top grades by unit, the player who finished with the highest special teams grade on the team: Tight end Johnny Mundt.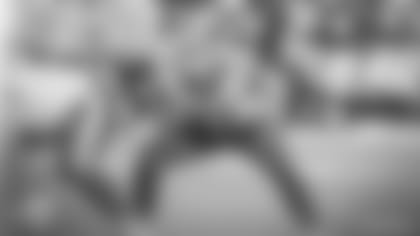 Mundt received a team-high 81.1 special teams grade. His 146 snaps with that unit were primarily spread across blocking on kicker Greg Zuerlein's field goal or extra point attempts and kickoff returns, plus punt return coverage.
Of those 146 snaps, 57 came on field goal kicks, 50 came on kickoff returns and 36 came defending against punt returns by the opposing team. The remaining three snaps came in punt protection for punter Johnny Hekker.
According to PFF, Mundt's best special teams performance of the season came against the Steelers in Week 10. He earned a grade of 92.3 based on what he showed across 12 snaps – five on field goal kicks or extra point attempts, four on kickoff returns and three on punt coverage. PFF considers a grade of 90.0 or higher to be elite.
Two of his three special teams tackles on the season came against Pittsburgh that week, a stat that likely contributed to his positive evaluation.
Mundt's efforts helped Zuerlein 42 for 42 on extra point attempts this season, the fourth time he's been perfect in that category in his career. Zuerlein was also 24 of 33 on field goal attempts.