The 2018 Los Angeles Rams opened the first practice of training camp at 3 p.m. sharp on Thursday. The University of California Irvine practice field was lined with Rams fans and media members excited for the first look at the reigning NFC West Champions and many of the new numbers in blue and white.
Second-year head coach Sean McVay was equally eager to get football underway with his brand-new cast of Rams. Following practice, McVay had positive things to say about his group, applauding his team's overall attitude entering Day 1.
"I think you just like getting back out here with the guys again and the way that they competed. There are things that we can certainly clean up, but I think it was a step in the right direction," McVay said. "Until we go back to look at the tape, it's hard to know [what he liked most] exactly, but I thought guys were competing hard and there's a lot of energy and enthusiasm out here.
"Still a few days before practices in pads, McVay stressed the importance of his group jelling. The Rams return 10 of 11 starters on offense and welcome a handful of newbies on defense. Although early practices are neither full-contact nor padded, McVay believes his team can make strides.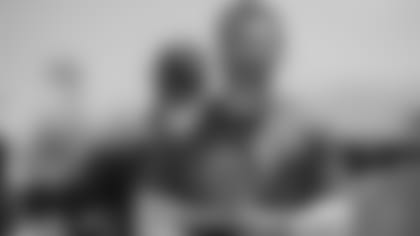 "The biggest thing that we're looking to do is establish our culture, establish what we identify as our football philosophy, and just most importantly, come together as a team. Those things will always remain the same and if we are able to do those things one day at a time, we feel like good things will happen for us," McVay said.
NEW TEAMMATES SHARE APPRECIATION
Veteran cornerback Aqib Talib participated in his first practice as an L.A. Ram on Thursday, rejoining his former defensive coordinator Wade Phillips on the practice field. Talib, who broke up a Goff pass today, aligned with his new head coach on how he believed practice went.
"I think it went good — it went well — energy was good — that's important on the first day — you got to come out with a lot of energy, a lot of enthusiasm and that was definitely there," Talib said.
The 32-year-old Super Bowl 50 Champion was complimentary about his new teammate, quarterback Jared Goff — specifically of Goff's mental strength.
"Confident guy, man," Talib said of Goff. "You can see his confidence is rising through the roof with coach Sean [McVay]."
Talib also commented on Goff's arm.
"Super accurate deep-balls man — he throws deep-balls and it lands in the perfect spot. That's huge in the NFL. A lot of guys can't throw deep balls, so you find a guy who is super accurate with those deep-balls, you stretch the defense…" Talib said.
Goff returned praise, calling Talib a "ball-hawk" following his first training camp practice against the two new corners, Talib and Marcus Peters. The pair will pose a new daily challenge for Goff and McVay's offense
"It's really fun and challenging everyday to go against those guys — Aqib does stuff that's unusual that you don't see everyday — that's the reason he's an all-pro and 10-year guy…" Goff said.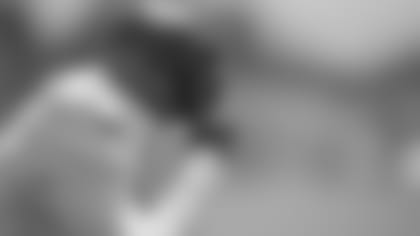 When asked what specifically about Talib's game causes headaches for quarterbacks, Goff credited Talib's creativity and ability to think like good corners do — outside of the box.
"I think just the way they understand route concepts and the way they understand the quarterback position, they don't just go by the book every single play. There's a little bit of feel here and there and that's what makes those players really good," Goff said.
The in-house battle between Talib and Goff should be fun to watch throughout camp.