Perhaps the most competitive position battle in L.A. this summer is between tight ends. The contenders include Tyler Higbee, Gerald Everett, and Temarrick Hemingway, who celebrated his 25th birthday on Monday.
Pass game coordinator/tight ends coach Shane Waldron commented on the status of his position group, calling it "a great competition." Waldron also talked about what Higbee can do to come up big in year three — specifically in the red zone.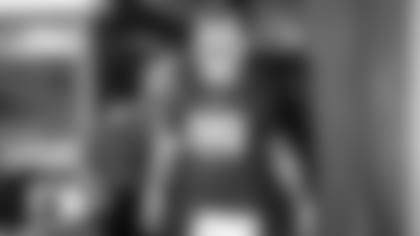 "I think overall as a part of the offense he [Higbee] does a good job of doing a little bit of everything," Waldron said. "He does a lot of dirty work and I think as far as his role in the red zone — just like anything else — growing in his second year in this offense in particular, and just building that rapport with Goff — just like the rest of the tight ends — so we have a good rapport in the red zone."
Waldron also said Everett has made an impression entering his second year by changing his overall approach to the game and paying greater attention to detail when it comes to Xs and Os.
MILITARY APPRECIATION DAY
The Rams held their fifth consecutive training camp practice on Monday afternoon before Tuesday's scheduled off day.
The Rams organization welcomed several members of the United States Military to Monday's practice as a part of Military Appreciation Day.
Service members from surrounding areas a received a custom 'Salute to Service' Rams flag and exchanged high-fives with Rams players as they entered the field.
Airman Mara Ignacio and her husband, Army captain Jan Ignacio, joined fellow service members in Irvine.
"It's an awesome day honestly. This is a really cool day to spend together and appreciate fandom with the Rams," Jan said.
He continued, voicing his appreciation for the day dedicated to military members.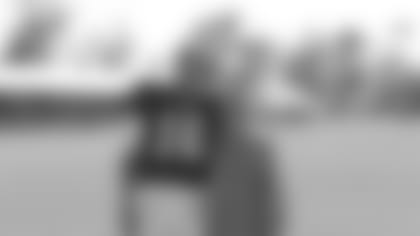 "Days like this, being able to spend time together and be fans and just really relax — be ourselves — it's really great for us to have that opportunity."
The Rams have Tuesday off, which might come as a much-needed break for a few. The team has remained relatively healthy throughout the first five days of camp, with center John Sullivan returning to practice today after exiting Sunday's practice early.
McVay said he is glad his guys will be able to relax on Tuesday.
"I think it's good guys get off their feet — we'll cut down meeting a little bit tonight as well and then let them have their rest tomorrow," McVay said. "[W]e'll come back and we really have three good days of work with the walk-thru and with practices before we head to Baltimore on Sunday."
COACH PHILLIPS COMES CLEAN
The Wade Phillips 'Fortnite' Twitter saga may have come to an end on Monday.
Following practice, ESPN writer Lindsey Thiry publicly asked the Rams' defensive coordinator about the popular video game for the first time, to which Phillips replied, "You didn't see my tweet?"
When asked if he actually plays the game, Phillips explained he wore the shirt for his six-year-old grandson who plays Fortnite.
"But I would have a pretty good squad I think… I might win a 'Battle Royale' too," Phillips finished.