When you walk into the Rams locker room, it's difficult not to turn to the right, because there you'll find the boisterous defensive backs group. Look straight ahead and you'll see an old Warriors championship banner hanging from quarterback Jared Goff's locker. But if you look just past that, tucked in the back corner wall, you'll find 5-foot-7, 153-pound JoJo Natson.
The wide receiver is on his third NFL team. JoJo can't explain where he got the nickname (his real name is Bruce). He can't recall what he threw into his suitcase when he got the call from Special Teams Coach John "Bones" Fassel last Tuesday to come play for the team. But he can tell you he has heart. And once you see that, it's hard to be distracted by anything else around him.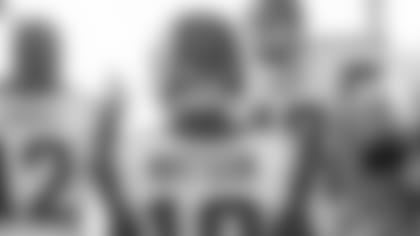 JoJo: Pretty much what it says. I always had the odds against me growing up, in football mostly but in life as well. And I just try and use that saying to remind myself to keep grinding whenever I feel discouraged and when things aren't going my way. I just kind of stuck with that Instagram name for a couple years now. A lot of people taking tune to it. They're realizing my story. They're seeing my football background and a lot of people are getting a sense of what it means too.
Sarina: Against all odds. You said not just football. What else?
JoJo: Life also throws you a lot of obstacles. For me, I had a lot of trials and tribulations. One mainly was coming out of college. I got in some trouble my third year in school, got kicked out of school, and I just didn't know what my next plan was. End up transferring to the University of Akron. Things just wasn't kind of how it was before I got kicked out of my first school. The odds were just against me.
It's hard to make it to the league when you've got a lot of baggage with you. Had some off the field issues. So those are the odds.
Sarina: And you're small for the NFL.
JoJo: And I'm small for the NFL. That was one of the instances where I told myself I was against all odds. I've got to grind it out. I've got to do everything right to achieve my goals. Actually, that situation with me leaving those schools and everything that happened, ended up making me a better person. Another saying I always use is 'everything happens for a reason.' That's something I'm a firm believer of.
Sarina: Earl Boykins, who was the second smallest player in the NBA -- It was Muggsy Bogues and then Earl -- when asked how he succeeded in the league, he would always say that being the smallest guy in the NBA was something he was used to. So how does this work for football?
JoJo: Kind of like Earl said; he's used to it. I'm kind of used to it as well. Growing up from Pop Warner to high school to college to the NFL, I've always been the smallest on the team. Always. But it's crazy because I was always the smallest but I was always making a lot of plays. Everybody had no choice but to respect it. So I just try and do something to catch the coach's eyes or catch whoever is watching me's eyes. They're going to always remember that. Like, dang, he made that play or this play. My biggest thing is then heart. I play with a lot of heart. They can't take that from me. They can measure my height and my weight, but they can't measure my heart. That's just something I approach the game with every day with and in life.
Sarina: Your heart, other people's heart blowing up your phone postgame when I talked to you last. What was the text that meant the most to you?
JoJo: From my college receiver coach. He texted me at halftime, actually. I didn't check it until after the game, but he texted me at halftime just telling me how proud he was of me. He was like my best friend in college. Once I got kicked out, he was still following my journey and making sure I was alright. And for him to reach out to me and always check up on me and then to see that text after the game, that just meant a lot for me.
Sarina: It stuck with you.
JoJo: Yeah, it stuck with me. No doubt.
Sarina: How do you use your lack of NFL size to your advantage?
JoJo: My jitterness. Being low to the ground. A lot of those big guys, they don't like to bend over and try to reach for me. My shiftiness, it gives them a problem trying to tackle me. That's something I try to use a lot. They don't like it.
Sarina: You tire them out.
JoJo: I tire them out. I'm like the Energizer Bunny out there.
Sarina: You went to Utah State and Akron. So do you feel like you've been fighting your whole life?
JoJo: Definitely. I've definitely prevailed with a lot of things. Sometimes I don't even realize a lot of the stuff I've been through. I just try to focus with 'Ok, that's the past. Focus on my future.' But when it's all said and done, I feel like I'm going to have a great story to tell my kids once I do have some. I don't want to say I take it for granted. I just realize a lot of people wouldn't have made it out of the situations I've been through. From getting kicked out of school to having a full ride scholarship to no scholarship at University of Akron to having to pay for school. A lot of people probably just would have given up. My biggest thing around that time was I had let my parents down. I let my parents down and my friends. I was like I can't go out like that. That was my biggest thing -- just trying to make my parents proud of me.
Sarina: Do you have this fear of disappointment? Where does that come from?
JoJo: Yeah, most definitely. I just got a dog in me. I've got a lot of competitive greatness. I have a standard I set for myself because I know what I'm capable of. If I don't reach that standard or that goal is not achieved, I'm not satisfied. Sometimes, It's frustrating when the opportunity is not there all the time. You know what you can do and it's just frustrating. I keep it going; I keep grinding. Just let everything play out and let the chips fall where they lay.
Sarina: Most people would be like, 'Oh, he's small for the NFL and that's why it was hard for you to get here.' But that's not necessarily the whole reason. You would've made it a lot easier.
JoJo: Not at all. Exactly. I guarantee you if I was 6'4", 200 pounds coming out of high school, I probably would've gone to Alabama. I would've been a five-star recruit with the talent I have. That just wasn't my calling that God put on me. I just had to deal with it. I think it's actually good on my behalf because I get Instagram DMs from guys who say, 'You're motivating me. I'm a small guy.' I was once in their position. 'Man, there's no way I'm going Division 1; no way I'm going to get a shot in the NFL.' But you just got to keep grinding. Make it hard on people to accept you. After a while, they're going to have to respect you. If you're doing this, you're achieving in certain areas on the field or off the field. They have no other choice than to respect you. I think that's what makes me happy. Seeing their faces after I beat those odds. That's the best part about it.
Sarina: Yeah? What athletes did you look up to growing up?
JoJo: Darren Sproles… Devin Hester… Dante Hall. Actually, I played running back growing up too so I liked Ricky Williams. But, yeah those were some of the guys I looked up to.
Sarina: Some smaller sized… like Sproles is...
JoJo: Yeah, Sproles he was most definitely, as well. Cause he's like 5'6. He just a little heavier than me, of course. But he's really like the exact height. He's just a little bit more… he got a little bit more weight on him.
Sarina: Yeah, have you reached out to any of them? Like, you know, talking about other people reaching out to you and being inspiring.
JoJo: Never. I never reached out to nobody, actually.
Sarina: So who has been the most supportive person then in your life? Whose helped you believe you can do this?
JoJo: I say my family. My mom and my dad. They are my support system for me throughout. Since I was six years old until now it's just been you know, been the best for me. Cause they always want the best for me. But they always, you know… they never gave up on me. After everything I been through. They never gave up on me. They always had hope. My mom prays for me a lot and my dad, he supports me. His support for me is outrageous. He, on his phone, is googling my name all the time. And that just inspires me. You know, I just want to keep them happy.
Sarina: This is your third NFL team now, right?
JoJo: Yeah, this is my third.
Sarina: Do you ever envision when you do stop fighting?
JoJo: Yeah, that's the goal. I want to get somewhere, I want to be somewhere I can stick and stay -- find a home for however many years. That's part of the process. That just makes me grind a little harder knowing what I want at the end of the day. And it'll happen. It'll happen.
Sarina: What was the moment in your life when you were like, 'I can totally make it in the NFL?" That moment.
JoJo: I'll say my junior year at Utah State. My third year at Utah State. I had a great year. My receiver coach at Utah State, he was telling me some of the scouts asked about me. If they were starting to ask about me, I was like, 'Ok they know about me a little bit.' It just made me a little more hungry on the field. It motivated me, obviously, if my name was buzzing with the scouts. I think that was the moment that definitely made me feel like I could make it to the NFL.
Sarina: Was there a play in the game or that moment where you were like, 'Oh my god, I just went against this guy who was like triple my size?' And you were like, 'Oh, I can totally do this!'
JoJo: Uh… Ok it was against Tennessee. It was against University of Tennessee, an SEC school. Lot of big guys. I was making some good plays out there against those guys. I was like, 'Man, these guys are big out here, but I can still play. I can still hang with these guys.' That kind of just drove me through the entire season. That ended up being one of the best seasons I had at Utah State.
Sarina: What is the goal you want to hit by the end of this season?
JoJo: By the end of this season? I want to lead the NFL in punt return yards and kick return yards.
Sarina: That's a good goal.
JoJo: That's a good goal.
Sarina: When you sat down, you did this. [Takes a deep, dramatic sigh] What was that?
JoJo: It was a long day -- a long day at work. Meetings. Just a relief to go home. Get ready to get home and relax my body. Just thankful. I'm just thankful everyday I walk on the practice field. I say a slight prayer to thank God because I was at home a week and a half ago trying to figure out my next move.
Sarina: Yeah. Bones said to me, before I walked into the locker room, Bones said, 'There was no question anybody else we were going to call. We weren't even going to have a tryout. It was an automatic. JoJo's our guy.'
JoJo: Yeah, he told me and that just shows how much… let me see how I can put this… it just shows the level of trust the coaches have in me, coming off the preseason. That means a lot to me because I knew the situation coming in with Pharoh being here. But I didn't let that stop me. I just continued to grind and just control what I'm able to control everyday. Not take no days for granted. So every preseason game, I try to go out there and attack and just play ball and have fun. You never know what can happen and that's exactly what happened. He called me and told me, 'You're our guy. We're going to get you on the flight in an hour or so.' That's what they did and I'm thankful for Coach Bones for believing in me.
Sarina: It's crazy because I want your brain and replicate it so I can put it in my brain. When you sat down and you're like that relief because just it's exhausting. To hear all of the things you went through, it exhausts me and I'm not even going through it.
Sarina: Sure, but I mean it's like ok you've always been the smallest guy on the field?
Sarina: So then you do that. And it's just like, 'Ok and then I get to college and then I'm not in college anymore and then I'm in another college…'
Sarina: 'And now I'm not there anymore.' And then you're undrafted.
JoJo: Undrafted, yep. Going through that process undrafted. Then having a great preseason with the Colts. Thinking I'm going to make the team. Go to the Jets and I'm thankful for the opportunities from both organizations. You know, practice squad. Get activated the last six games. Get released. In April, pretty much at home and just working out, not knowing when that next calling is. Get a workout with the Rams. Get sent back home. Come back for another workout with the Rams. Then they sign me on the spot.
Not to mention, when I came to the second workout with the Rams, I only had a backpack, some gym shorts, some shoes, some undergarments -- thinking, honestly I didn't think they was going to sign me. I just came for a workout so I didn't bring much at all. I had to get some stuff sent out again. I had my parents send me some clothes out for camp.
Sarina: You've literally been living out of this backpack…
JoJo: And a suitcase. I've been living out of a suitcase and a duffel bag for the last going on two months.
Sarina: It seems like years!
JoJo: Yeah, it's been crazy. It's been a crazy journey for me.
Sarina: That's why I want to replicate your brain because I'm just like, 'I need part of that fight.' And then it's just like, 'I'm here,' but there's got to be a part of you that's like, 'Ok but I've got to keep going.'
JoJo: Got to keep going. Definitely, definitely. That's what I told myself on Sunday after the game. I was like, 'Ok, you had a pretty good game but it don't stop here. You've got to keep going. It's just getting started. You've got to keep going, and especially being a smaller guy, I've got to continue to show my worth. Show the coaches what I'm capable of.'
Sarina: There's a fire with you when you're out there.
JoJo: Every time. Every time. I've kind of got the… they call it the Little Man Syndrome. I've got to feel like I've got to prove myself every day. And in a sense, I really have to, but that just makes me a better player. Going out there, attacking the day like I do.
Sarina: Little man doing big things.
JoJo: Little man doing big things.