Following each practice, Quotes and Notes will bring you what was said, who said it, and what it means for your Los Angeles Rams.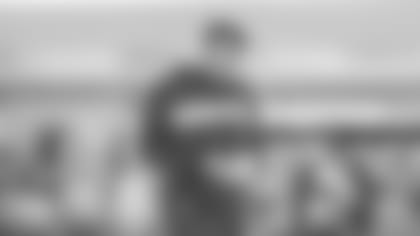 "We were excited about the opportunity to play in Mexico City, but I think it's a great demonstration of the league's consideration for our players." -HC SEAN McVAY
Head coach Sean McVay opened his Thursday press conference from Colorado Springs, Colo. addressing Monday Night Football's move from Estadio Azteca in Mexico City to the L.A. Memorial Coliseum.
McVay said moving the game due to poor field conditions in Mexico City is "clearly the right thing to do."
"Really, we looked at it as another chance to get away before the bye week — kind of continue to connect as a team." -HC SEAN McVAY
McVay expressed that there is still value in his team practicing in Colorado Springs this week leading up to Monday night's game, despite the contest being moved to the Coliseum which sits just 285 feet above sea level.
McVay and his staff see continuing to train in altitude as a smart conditioning move, as well as an opportunity for the Rams to prepare with little distraction.
The club included family of players who were evacuated from their homes during recent wildfires in the Los Angeles area on the trip to Colorado. The head coach said this also went into the decision to stay in Colorado Springs for the week.
"You don't ignore the fact that this is his former team and that naturally comes with some other feelings just based on the history and relationships that you have." -HC SEAN McVAY
Rams cornerback Marcus Peters will go against his former team in the Kansas City Chiefs on Monday.
McVay said that there is no reason to shy away from having a conversation with Peters about the upcoming matchup, and said dialogue is shared regardless of who the opponent is.
Peters spent the first three years of his career in Kansas City. The young corner cemented himself as one of the top defensive players in the league with 19 interceptions, two touchdowns, and five forced fumbles in his first 45 games as a professional.
Peters won Defensive Rookie of the Year in 2015, is a two-time Pro Bowler, and was a first-team All-Pro in 2016. The Chiefs selected Peters No. 18 overall in the 2015 NFL Draft out of Washington.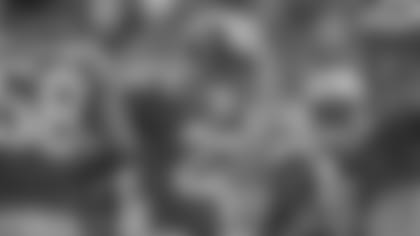 "As long as it doesn't hurt the team and it's all in good nature, then I think we are OK with that." -HC SEAN McVAY
McVay also addressed Peters' widely publicized comments from last week directed toward Saints head coach Sean Payton.
McVay, who admitted he also likes "talking a little bit back and forth," said that he believes Peters is aware of "where the line is" between hurting his football team and his ability to perform, and good-natured competitiveness.
"He's made some plays that you sit back and you can't help but just say, 'Wow what a great play.'" -HC SEAN McVAY
McVay briefly mentioned former Green Bay Packers quarterback Brett Favre when asked about any comparisons for what he's seen in second-year quarterback Patrick Mahomes this season.
McVay said what is impressive about Mahomes is his ability to consistently perform at a high level, in addition to the young signal caller's ability to create on and off schedule.
Mahomes threw for at least 300 yards in eight-straight games between Week 2 and Week 9. He has an NFL-best 31 touchdown passes.