Following each practice, Quotes and Notes will bring you what was said, who said it, and what it means for your Los Angeles Rams.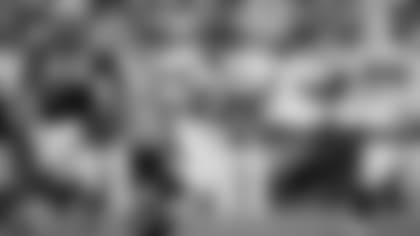 "You could see him playing a role as early as this week."
-HC SEAN McVAY
Head coach Sean McVay said running back C.J. Anderson could play a role in his offense as soon as Sunday's game against the Cardinals.
Anderson is in his sixth season as a pro and has racked up 3,155 yards rushing and 20 touchdowns in that time.
Anderson most recently took the field as a member of the Panthers. Appearing in nine games this season and starting one, Anderson's rushed for 104 yards on 24 carries. He also made a 24-yard touchdown reception.
The veteran back rushed for over 1,000 yards for the first time last season as a Bronco.
"It wasn't anything that he didn't do, and Pharoh handled it in a nothing-but-class manner."
-HC SEAN McVAY
Head coach Sean McVay provided reason to why the Rams waived wide receiver Pharoh Cooper in his Wednesday press conference.
McVay said the transaction was necessary in order to make room for running back insurance, which came later on Tuesday afternoon in the club signing the veteran Anderson.
McVay said it is yet to be determined whether it'll be return man JoJo Natson back to field kicks, or safety Blake Countess.
Cooper, L.A.'s fourth-round draft pick in 2016, played in 31 games as a Ram and returned one kickoff for a touchdown. The South Carolina product was an All-Pro return man a season ago.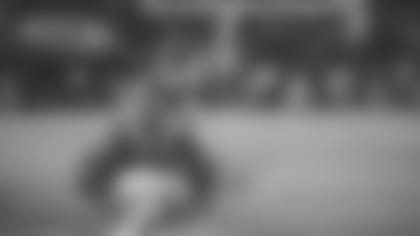 "There's definitely some things I can help out — relate my story about the Super Bowl. One, being a backup when we lost Super Bowl 48, and Super Bowl 50, being a starter, being heavily in the game plan."
-C.J. ANDERSON
The Rams' newest offensive member talked rings on Wednesday afternoon from his new locker at the team's Cal Lutheran practice facility in Thousand Oaks, Calif.
Anderson said he thinks he can bring some playoff experience, as either a starter or backup, to his new club, which made its first playoff appearance since 2004 in its first-round exit against the Falcons last season.
Anderson played in two Super Bowls as a member of the Broncos and went 1-1 in the big game. Anderson started in the Broncos' rout of the Panthers in Super Bowl 50, rushing for 90 yards and one touchdown in the win.
"Just him being there with Peyton — Peyton ain't playin about no protections and stuff, so he'll definitely be on his P's and Q's as far as protection and all that."
-CB AQIB TALIB
Cornerback Aqib Talib was a teammate of Anderson in Denver during the Super Bowl 50 run and said the back was detailed his work in protecting former Broncos quarterback Peyton Manning from pass rushers.
Protecting Goff seemed to be a bit of a question surrounding the possibility of both backup running backs Justin Davis and John Kelly stepping in in the absence of backup running back Malcolm Brown. Anderson confirmed his once and current teammate's evaluation, saying he takes pride in his pass protection.
"I was definitely a fan growing up when he was there. Definitely cool to get him in here and get a chance to work with him and seeing how sharp he is right away."
-QB JARED GOFF
Quarterback Jared Goff spoke about the chance to play alongside a fellow former Cal Bear.
Anderson joined the Broncos as an undrafted free agent out of Cal in 2013. The newest Ram was an All-American in Junior College at Laney College in Oakland. As a senior in Berkley, Anderson rushed for 790 yards and four touchdowns.
Goff said he's already gotten a sense of the veteran's ability to pick things up quickly.