Following each practice, Quotes and Notes will bring you what was said, who said it, and what it means for your Los Angeles Rams.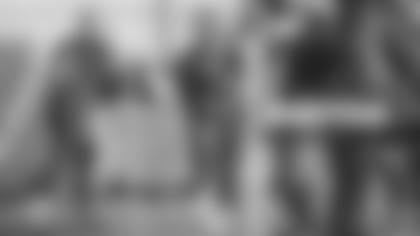 "With regards to his status — take it up to the game — we're not going to do anything that isn't smart for Todd."
-HC SEAN McVAY
Head coach Sean McVay said running back Todd Gurley and Justin Davis will be questionable for Sunday's game. McVay echoed Gurley's Thursday night press conference, stressing the importance of communication between Gurley, the team doctor, and the coaching staff.
McVay expressed confidence that the back knows his body and won't put himself in harm's way, before saying Gurley will likely be a game-time decision.
Gurley has missed just one game since coming back from his knee injury sustained in his final season at the University of Georgia — it was the final game of his rookie season back in 2015, with a foot injury.
"Been very, very impressed with how quickly he's been able to pick things up rather seamlessly."
-HC SEAN McVAY
McVay confirmed that Anderson starting is a possibility this weekend in Arizona.
McVay was asked if he's had any experience getting integral parts of the offense up to speed as he is now with Anderson and he said that he has.
McVay described a similar situation with former Saints running back Pierre Thomas when the head coach was an assistant in Washington, and with wide receiver Nick Williams earlier this season, when the wideout had to stand in for WR Cooper Kupp following a knee sprain against the Broncos.
"My competitive advantage is my football I.Q. and plenty of coaches and players around the league compliment me on that — that's something you take, you don't get too many pluses in this league. "
-RB C.J. ANDERSON
Anderson said he is ready to go on Sunday if needed and that his "countless hours" of preparation this week eliminates any challenge that might come with playing Sunday football for the first time since Week 10.
The back said it could take a few plays to "get his wind" after his brief break from football and that he's taken note on a few details when it comes to pass protection and other miscellaneous X's and O's, but finished saying, "it's like riding a bike."
Anderson's faced Arizona head coach Steve Wilks twice in his career, when Wilks was an assistant head coach and defensive backs coach in Carolina. Anderson rushed for 90 yards against the Panthers in Super Bowl 50 and 92 yards the following season.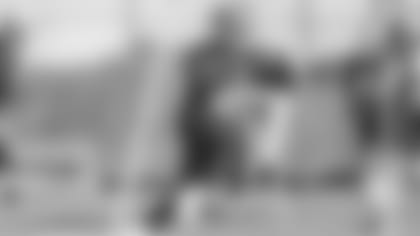 "C.J. has a reputation to be able to understand offenses and understand them quickly."
-RG RODGER SAFFOLD
Left guard Rodger Saffold said his offensive line can best help Anderson if his number is called against the Cardinals by paying close attention to the blocking scheme and provide clear running lanes for the new back.
Saffold confirmed that Anderson has done a nice job in practice this week, keeping in mind that getting up to speed in a situation like his is not an easy thing to do.