Following each practice, Quotes and Notes will bring you what was said, who said it, and what it means for your Los Angeles Rams.
"[A] lot of people behind the scenes did an excellent job setting it [practice in Baltimore] up — really very appreciative of coach [John] Harbaugh and his group and what a great job they've done in accommodating us. It seemed like it was a great first day guys were able to get a lot out of it — a lot of respect for this organization and how they've completed the last handful of years.." -HEAD COACH SEAN McVAY
Head coach Sean McVay praised many of those who worked "behind the scenes" for his team to be able to participate in joint practices with the Ravens during training camp.
The Rams traveled over 2,000 miles from LAX to Baltimore on Sunday morning, with a larger than normal roster prior to cuts at the beginning of September.
The Rams will practice once more with the Ravens on Tuesday before a Wednesday walk-thru and Thursday evening's first preseason game for the Rams and second for the Ravens.
The Ravens played in the preseason opening 'Hall of Fame Game' last Thursday night, defeating the Bears 17-16.
"We wanted to be able to get a lot of good work in today. I thought coach Harbaugh's guys did a great job of competing smart from what it seemed like as well, and so did our guys. But that was definitely the message — we don't need any of that [fighting in joint practice], especially because of some of the things that can happen injury-wise, things like that. And [we] always talk about what's the intent of coming out here to practice and it's to get better and go against a really good football team and that's what we felt like we got today." -HEAD COACH SEAN McVAY
While the Rams have had a scuffle-free training camp thus far in Irvine, there was some question as to whether or not tempers might flare in joint practices with the Ravens.
McVay said he made it clear to his guys what the "intent" of these practices are and plans to avoid injuries at all costs.
All eyes were on corner Aqib Talib and Ravens' wide receiver Michael Crabtree, who have had on-field confrontations in the past.
"It really is [difficult to only watch offense]. But that's where you have such great confidence in [defensive coordinator] Wade [Phillips] and our defensive staff as a whole. We have always talked about it — you know when you have great coaches like we do, if you do a situation where it's a two-spot drill, just with the involvement that you have offensively, you feel like you can get some good work in. And then I'm excited to watch the tape and kind of be in tune with what happened [on defense]." -HEAD COACH SEAN McVAY
Monday's practice was split between offense and defense, forcing McVay mostly focus on the Rams' offense on one field. Los Angeles' defense — squaring off against Baltimore's offense — was far enough away from McVay that he really couldn't tell what was going on, especially since he serves as the offensive play-caller.
McVay was complimentary of the Ravens' defense, specifically of linebacker C.J. Mosley and safety Eric Weddle.
"It felt good Saturday. I think as time goes on you just continue to get more comfortable. I think we have put in all of our installs now and we are starting to rep the same plays over and over again and our good plays over and over again — starting to figure out what we like, what we are good at. And when that happens, I think you become more comfortable with it and stuff starts to roll a little bit better." -QB JARED GOFF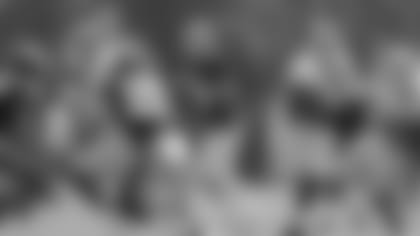 Quarterback Jared Goff seems to be getting comfortable at the start of his second season leading McVay's offense.
On Saturday, Goff had a noticeably strong practice wrapping up the pre-Baltimore stretch of training camp.
Early on in Irvine, Goff expressed how excited he was to face a challenging defense daily. On Monday, Goff seemed equally up to the challenge of running his offense against an unfamiliar defense in the Ravens.
"Yeah, it's definitely different for me, being a native of California and being out here. But we have played in games, you know Jacksonville is the one last year that you look at that was really humid like this. It can happen, I'm sure we will have a game this year or multiple games in that kind of temperature — so we have to deal with it and I thought today was good to feel that." -QB JARED GOFF
The weather was a hot and humid topic following Monday's practice, with temperatures in the 90s and humidity unfamiliar to Californians.
While it's been hot in Irvine, Goff and a few others commented on adjusting to football in Baltimore's sticky summer heat.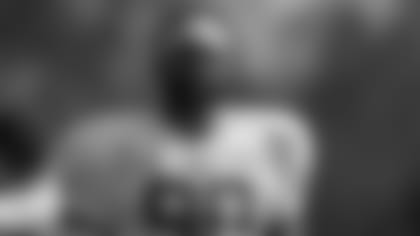 "It kind of boosts our confidence a little bit. When you go against your team so much, you obviously know each other — you know each other's playmakers and stuff like that. Going against another team and you get stops it kind of makes you feel like it's for-real ball — it's what it's going to look like on Sundays. So getting out there, getting some stops on third down, getting some sacks, and the secondary breaking up some passes — it felt great definitely for us." -DT MICHAEL BROCKERS
Defensive tackle Michael Brockers spoke about the benefits of joint practices on Monday afternoon.
Monday marks the first time Brockers and the Rams have faced an opponent not wearing Rams colors since January's loss to the Falcons.
This week's practices should provide the Rams' defense a better idea of what to expect when it comes to games that count.