Following each practice, Quotes and Notes will bring you what was said, who said it, and what it means for your Los Angeles Rams.
"But there's a focus, concentration right now. I think the guys are getting locked in, getting ready to go and we got to have, really, three more good days of preparation — getting ready for a great team on Monday night." -HC SEAN McVAY
The Rams will begin their 2018 campaign Monday night in Oakland on ESPN's Monday Night Football.
McVay is holding later practices throughout the week leading up to Week 1. He said he took the advice of head strength and conditioning coach Ted Rath and head athletic trainer Reggie Scott when scheduling practices this week, attempting to ensure "bodies are peaking at the right time" in preparation for the 7:20 p.m. PDT kick-off time.
"Aaron looks good. I think he's getting more and more comfortable — just in terms of being able to just see the player, the way that he's locked in — it's good." -HC SEAN McVAY
While McVay said he does not yet have any players who are certain to miss Monday night's game, he did say defensive tackle Aaron Donald is ready to roll.
Donald proves historically hungry early in the season. In 2015, Donald had two sacks in Week 1, and then opened his season with a sack in Week 3 last year against San Francisco.
Donald is entering his fifth season in the NFL, out of the University of Pittsburgh.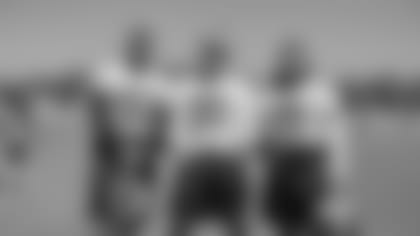 "Like I said before, we've been missing our little puzzle piece — the final piece. So it's been awesome. We love having him here." -DT MICHAEL BROCKERS
Defensive tackle Michael Brockers also spoke about Donald's return to the Rams' defensive line.
Brockers expressed that he is absolutely OK with flying under opposing teams' radars as a lesser-known member of the big-name line with Donald and Ndamukong Suh.
Brockers also confirmed that Donald has returned to his defense seamlessly, actually picking up the unit's tempo in practice.
"That was a decision that we made and I totally respect and understand that people might disagree with that." -HC SEAN McVAY
McVay responded to those questioning his decision to sit starting quarterback Jared Goff for the entirety of the preseason on Thursday afternoon.
McVay said that multiple things went into his decision to sit Goff, including good work in joint-practices in Baltimore, and already established continuity on offense.
There was some reason to believe Goff would play in preseason Week 3 in the L.A. Coliseum against the Texans, but the combination of an injured pass protector in Rob Havenstein and scary Texan pass-rushers negated any dress-rehearsal plans for Goff.
McVay said he understands the possible consequences, knowing he must "take ownership of decisions".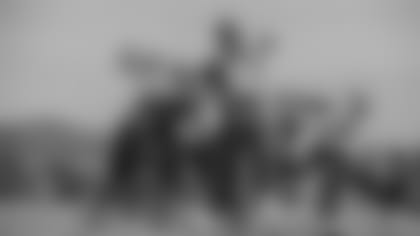 "We have the ultimate confidence in Austin Blythe." -AARON KROMER
The Rams seem to have an answer for one of the few position question marks they face entering Week 1. Backup center Austin Blythe will stand in for suspended right guard Jamon Brown in the first two games of the season.
Run game coordinator/offensive line coach Aaron Kromer said Blythe's cross training on the offensive line and previous experience filling in at guard warrant confidence.
Brown started all 16 games in 2017.
"We were jumping for joy when he [rookie Joseph Noteboom] was there in the third [round] and he's performed at higher level than that." -AARON KROMER
The Rams drafted three offensive linemen in the 2018 NFL Draft in tackles Joseph Noteboom and Jamil Demby, and center Brian Allen. All three offensive lineman made the 53-man roster last weekend.
On Thursday, Kromer spoke highly of Noteboom. Kromer said his TCU product has shown in the preseason that he can play in the NFL, successfully protecting the quarterback and executing run-game details.
The Rams' starting offensive line is a combined 104-years-old. With veteran offensive linemen Andrew Whitworth, John Sullivan, and Rodger Saffold entering the later years of their careers, it is clear Kromer and McVay are looking to establish solid young talent protecting their quarterback for the near future.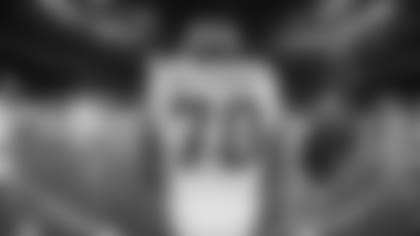 "I know that the position comes with a lot of responsibility and I just hope to lead this team in the right direction." -DT MICHAEL BROCKERS
Finally, the Rams announced their six captains for 2018 on Thursday morning and the list included seventh-year defensive tackle Michael Brockers.
Brockers is a first-time captain in 2018, and is joined by quarterback Jared Goff, veteran offensive lineman Andrew Whitworth, punter Johnny Hekker, corner Aqib Talib, and running back Todd Gurley.
Brockers said that he is "all about getting young Rams up to speed" and in order to best prepare them to help L.A. win games.