On Wednesday, July 31, when Rams players had the day off, their fans had the chance to train on the Training Camp fields for the second annual 'Sideline Challenge' in partnership with 24 Hour Fitness. During the event, participants had the opportunity to warm up with members of the Rams' Athletic Training staff and 24 Hour Fitness personal trainers. Fitness stations and NFL Combine drills such as 40-yard dashes, speed ladder drills, catch/punt/pass competitions, cone drills, and vertical jumps tested participants' skills, agility and athleticism. Each participant also went home with a Rams & 24 Hour Fitness co-branded 'Sideline Challenge' t-shirt.
In attendance was Rams Legend, JIM EVERETT, who provided guidance to participants as they went through drills and offered tips on proper technique. He spoke about working with 24 Hour Fitness to motivate fans not only to stay active, but to do so the right way. Everett also commented on the fans' exclusive access to the Rams' 2019 Training Camp field for the evening.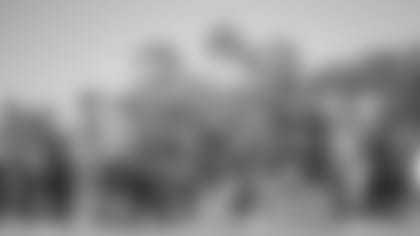 "24 Hour Fitness is about doing things the right way," said Everett. "They have professional instructors to make sure that people do things the correctly and that they're not harming themselves. There's no better time than now to get going and everyone out here today gets to be on a lovely NFL field. Usually at Training Camp, there's thousands of people in the stands, but today they were able to take over the field and test their abilities. It's not two-a-days for these folks, but we're going to grill them! Kudos to the Rams and to 24 Hour Fitness for bringing everybody out here and putting a bunch of smiles on everyone's face. It's awesome."
Rams rookie Safety NICK SCOTT also joined fans in some of the activities. He appreciated the opportunity to connect with the fans that will soon be cheering for him on Sundays.
"It's fun seeing everybody compete and do what we do," said Scott. "They're having a good time and I'm enjoying meeting some of our fans and sharing my story and perspective with them. Getting to meet the people who are supporting us every time we hit the field makes it a little more personal which is always great."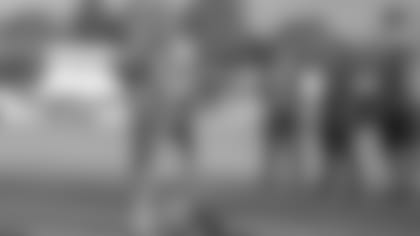 Scott was impressed with the age range of the participants and their respective skill levels. With knowledge of the intensity of the team's workouts, he encouraged participants going through fitness stations with the Rams Strength and Conditioning Coach, TED RATH.
"There is a 79-year-old woman here who is absolutely killing it," said Scott. "She challenged her grandkids, who are in their twenties, to get out here which is awesome. We have one guy who just ran a 40-yard dash in 4.5 seconds, which let me tell you is not bad. There are plenty of guys all over the country in the NFL right now who have run a 4.5 or would really love to run a 4.5, so that was impressive and everybody else is doing a really nice job. The level of physical activity is elevated. The strength and conditioning coach definitely has a lot of energy, so I feel for them because he's really intense. But I'm sure they'll get used to it. I've gotten used to it."
Karynn LaMonda, who serves as General Manager of 24 Hour Fitness, was happy about the promotion of healthy living and engagement in football through this event. She enjoyed working with the Rams' training staff and their current and former players to carry out that mission.
"It was an amazing event to have people of all ages, genders, and backgrounds be able to participate in what the Rams players do every day in their training sessions," said LaMonda. "Our mission at 24 Hour Fitness is to create a healthier, happier world, so when we can get into the community and show that there are so many different ways to exercise, workout and have fun, it's a great starting point. When you're fit, moving around and healthy, it affects every aspect of your life. You don't have to be a professional athlete. You just have to get moving and it will make every part of your life better."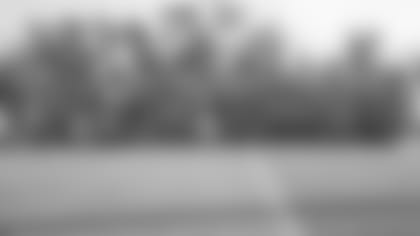 This is one of the many experiential events hosted by 24 Hour Fitness and the Los Angeles Rams to promote a healthy lifestyle both inside and outside the club for people of all ages. Last year, the Rams and 24 Hour Fitness hosted their inaugural 'Sideline Challenge' at the Rams Practice Facility in Thousand Oaks. The two organizations also hosted a 'Yoga on the Beach' session as a way to emphasize the importance of fitness in 2017.